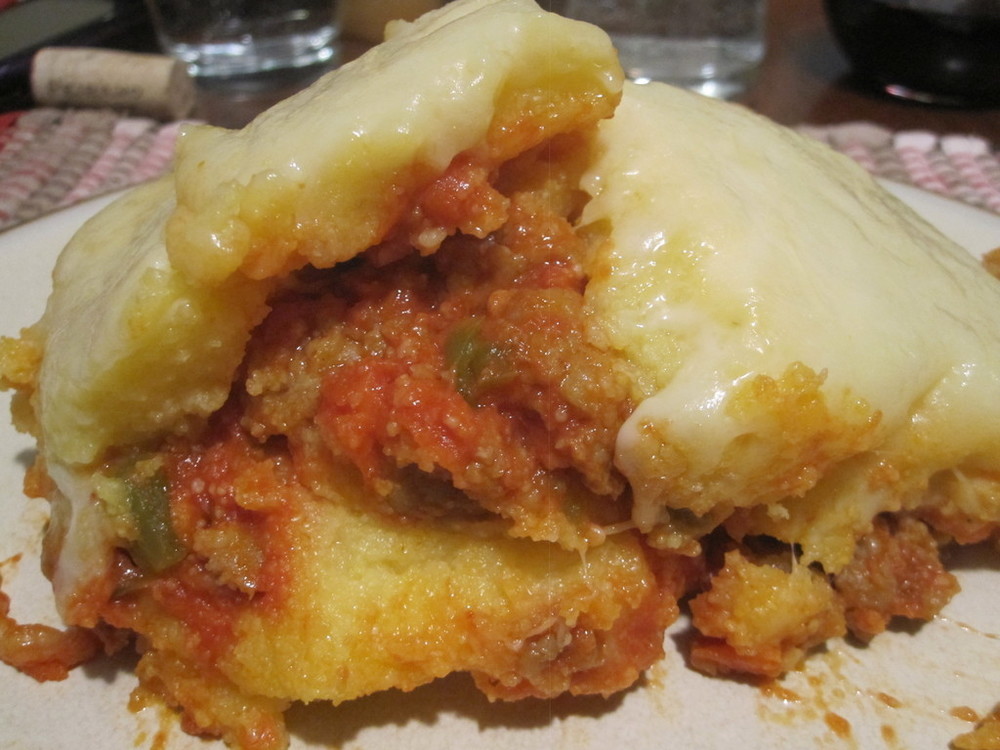 Ingredients
5 cups water
2 cups yellow cornmeal
4 links sweet sausage, casings removed
1/2 cup green pepper, chopped
1/3 cup shredded carrot
Dash garlic powder
1/3 cup tomato paste
1/2 cup grated parmesan cheese
4 slices of provolone cheese
1. Preheat oven to 350 degrees.
2. Bring 3 cups water to a boil in a medium saucepan.
3. Combine remaining 2 cups water with 2 cups of cornmeal and 1/2 teaspoon salt. Slowly pour the cornmeal mixture into the boiling water, stirring constantly until thick and bubbly - cook on low for about 5 minutes, stirring frequently.
4. Take off the heat and spoon 1/2 of the cornmeal into a greased 8" square pan. Line another 8" pan with waxed paper and spread the remaining cornmeal over the waxed paper.
5. Place the greased 8" pan with the cornmeal onto a baking sheet and bake in a 350 degree oven for 10 minutes.
6. Heat a large skillet over medium high heat. Add oil and swirl to coat. Cook the sausage, pepper, carrot, and garlic powder until tender and sausage is crumbled. Stir in the tomato past and parmesan cheese (add a little water if needed to break up the tomato paste).
7. Spoon the sausage mixture evenly over the baked polenta. Invert the uncooked polenta onto the top of the sausage mixture. Bake uncovered for 20 minutes. Top with provolone cheese and bake for 5 minutes or until melted.
main courses, polenta, sausage December 01, 2012 04:19
Share the recipe with your friends
No one has liked this recipe.
0 comments