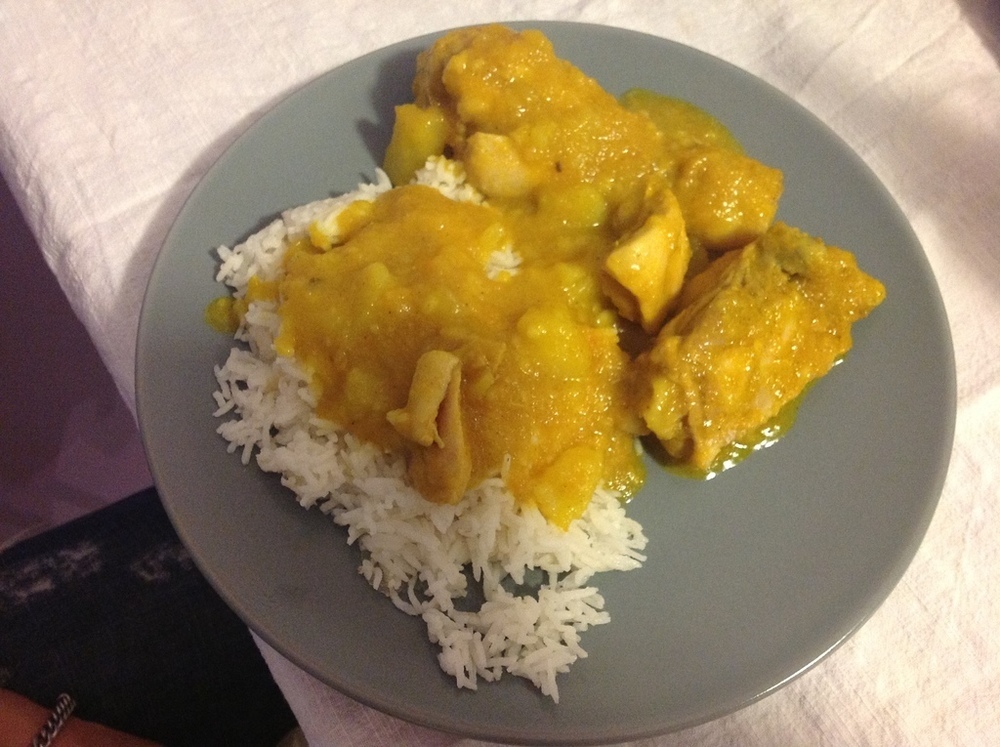 Ingredients
for 3 persone
2 carote
2 cipolle
3 cosce di pollo
4 sovraccosce
2 patate medie tagliate a tocchetti
2 cucchiai di curry
6 cucchiai di olio
Acqua q.b.
2 cucchiaini di sale
250 gr risp basmati
1. Far rosolare il pollo nell'olio per circa 10 minuti a fuoco medio in una padella fonda (tipo wok).
2. Aggiungere le carote e le cipolle tritate finemente,e dopo circa 10 minuti aggiungere le patate, il curry e il sale.
3. Aggiungere dell l'acqua in modo da ricoprire la carne.
4. Cuocere a fuoco lento per almeno altri 20 minuti.
5. Aggiungere una manciatina di farina nel caso in cui il sugo fosse troppo liquido.
6. Nel frattempo far bollire una quantità di acqua pari al doppio del peso riso, quindi versare il riso. Una volta ripresa l'ebollizione, abbassare il fuoco e cuocere coperto finché l'acqua non è stata completamente assorbita.
7. Spegnere il fuoco e far riposare per qualche minuto prima di sgranarlo e farlo raffreddare. Il riso basmati, infatti, rimane ben sgranato se lo si utilizza quando si è raffreddato.
8. Servire il pollo accompagnato dal riso.
main courses, basmati, curry, pollo January 26, 2013 22:06
Share the recipe with your friends
No one has liked this recipe.
0 comments