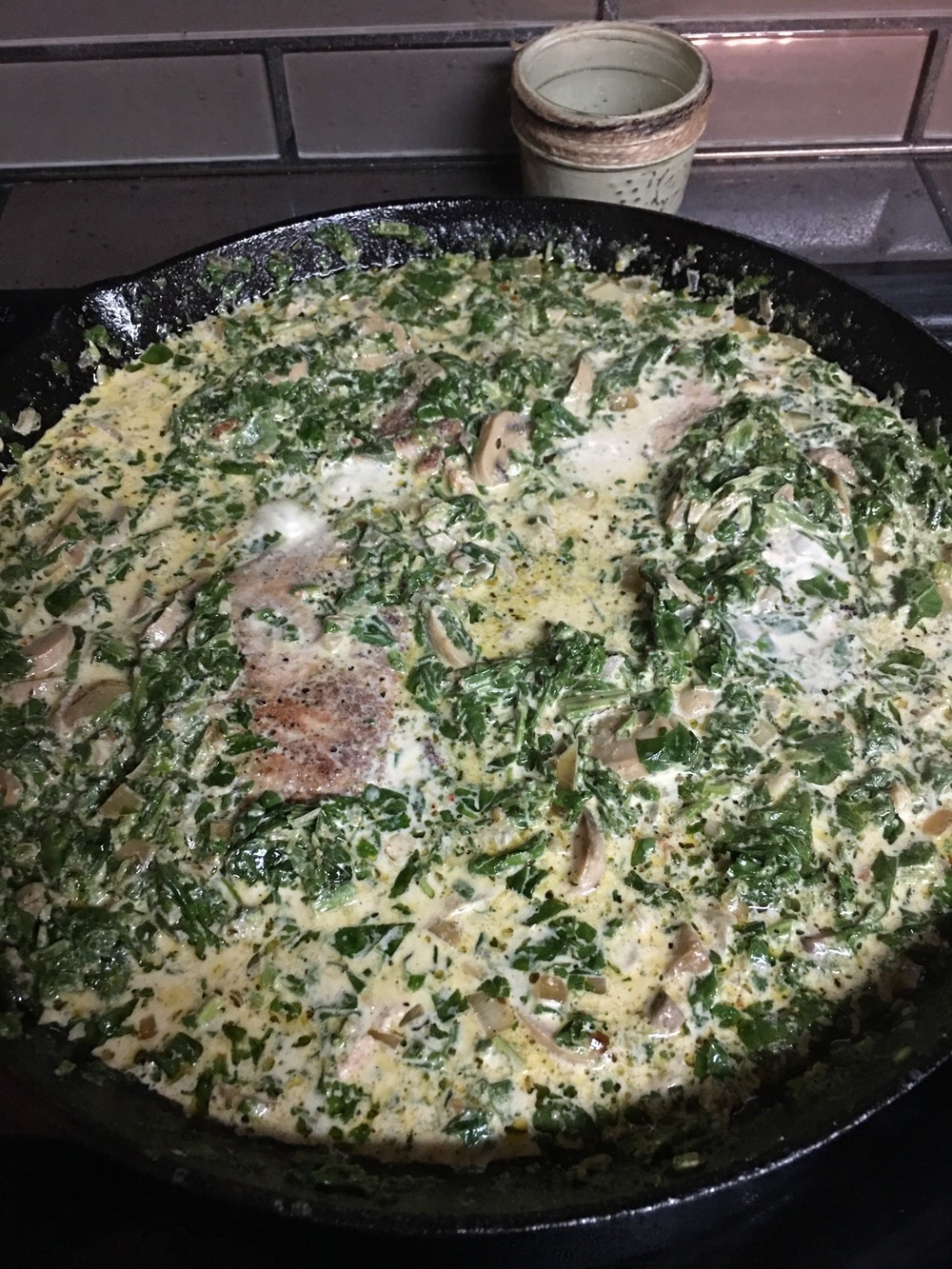 Ingredients
3 pork chops, boneless
Salt and fresh cracked pepper, to taste
1 teaspoon paprika
2 teaspoons olive oil
2 tablespoons butter
6 cloves garlic, finely minced
1 small yellow onion, minced
1/3 cup vegetable or chicken stock
1 3/4 cups half and half or heavy cream
3 cups baby spinach
1 teaspoon Italian seasoning
1 teaspoon crushed red chili pepper flakes, optional
1/4 cup fresh grated Parmesan cheese, optional
Fresh chopped parsley
I added mushrooms....
Prep. Time → 10 min
Cook Time → 20 min
1. To cook your boneless pork chops in creamy garlic spinach sauce: Heat the oil in a large skillet over medium-high heat. Season the pork chops with paprika, salt and pepper on both sides, and sear in the hot pan, for 3-5 minutes on each side depending on the thickness, or until cooked to your liking. Once done, remove pork chops from the pan and set aside.
2. 2. Melt butter in the remaining cooking juices in the same pan. Add garlic, onion, Italian seasoning, and red crushed chili pepper and stir-fry until fragrant, about one minute. Add in the vegetable or chicken stock, and allow to reduce a little.
3. 3. Reduce heat to low heat, add the half and half (or heavy cream), and bring the creamy sauce to a gentle simmer. Adjust seasoning with salt and pepper.
4. 4. Add the spinach leaves and allow to wilt in the sauce, and stir in the parmesan cheese (if using). Allow sauce to simmer for a further minute until cheese melts through the sauce.
5. 5. Transfer the pork chops back into the pan to reheat; sprinkle with the parsley, and spoon the sauce over each pork chops. Serve the boneless pork chops in creamy garlic spinach sauce over steamed vegetables, zucchini noodles or cauliflower rice. Enjoy!
6. Note: You can use dry white wine instead of vegetable stock if you prefer.
7. HOW TO COOK BONELESS PORK CHOPS RECIPE TIPS
Take you boneless pork chops out of your refrigerator about 15 minutes before you plan to start cooking. The meat will cook more evenly throughout when you bring it at room temperature. This simple trick makes a whole difference, and you're in for perfect pork chops every time!
Keep an eye on your pork chops while cooking: With a little less fat and no bone to protect from overcooking, boneless pork chops tend to dry up quicker than their bone-in counterpart.
Rest the meat after cooking pork chops: A quick rest period of five minutes before serving and cutting allows the juices to flow back through the meat and make it more tender. You can cover the pork chops with a shallow plate or loosely tent with foil.
main courses November 18, 2020 14:22
Author Eatwell 101
Share the recipe with your friends
No one has liked this recipe.
0 comments