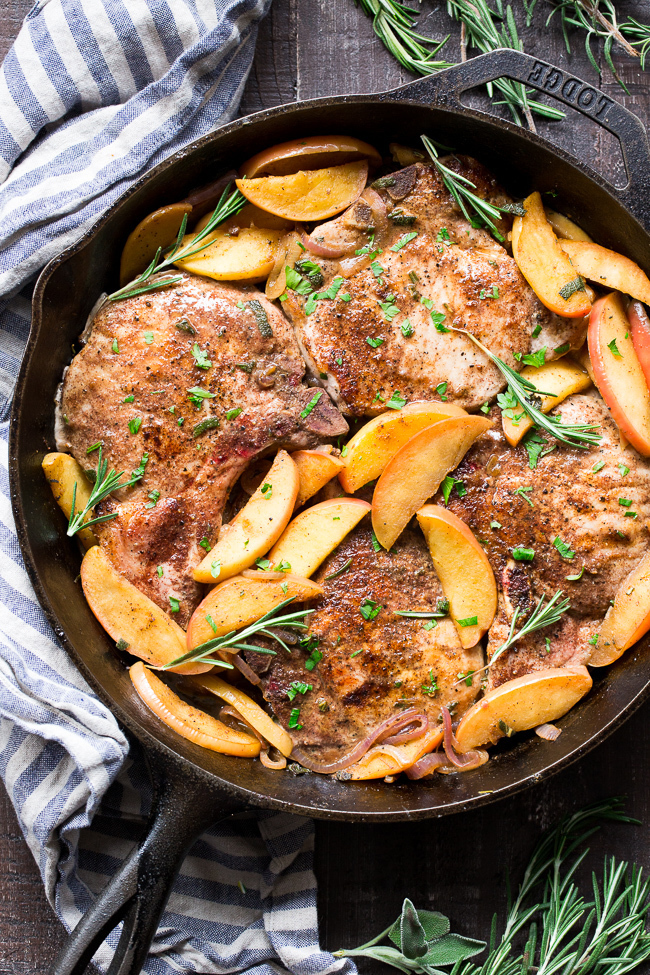 Ingredients
for 3 Servings
2 TBSP olive oil, divided
3 pork chops (I use boneless)
3/4 Cup chicken broth
1 tsp Dijon mustard
1 TBSP fresh sage, chopped
1/2 tsp fresh thyme, chopped
1/2 tsp kosher salt
1/4 tsp black pepper
2 medium apples, thinly sliced (I used gala)
1 small red onion, thinly sliced
Salt & Pepper for seasoning
Prep. Time → 15 min
Cook Time → 15 min
1. Season both sides of the pork chops with kosher salt and black pepper.
2. Add 1 TBSP of olive oil to a cast iron pan and heat over medium-high heat.
3. Add the pork chops to the pan leaving at least an ince between the chops to ensure even cooking and browning. Sear 3 - 5 minutes per side, or until pork chops are mostly done. The chops will continue cooking in the sauce later.
4. Remove pork chops to a plate.
5. In a small bowl, whisk together chicken stock and mustard, set aside.
6. Add remaining 1 TBSP of oil to the pan, then add apples and onions. Cook for 4 minutes, stirring occasionally. Season with salt, pepper, sage and thyme. Stir to combine.
7. Pour in stock mixture, using a wooden sppon to gently scrape the bottom of the pan to release any brown bits which are full of great flavour.
8. Slide the pork chops back into the pan, nestling them down in between the apples.
9. Cook for 2 - 3 minutes, until pork chops are cooked all of the way through and the liquid has reduced by half.
10. Served with scalloped potatoes.
main courses March 06, 2021 22:40
Share the recipe with your friends
No one has liked this recipe.
0 comments