Ingredients
Basmati Rice
salt
4 limes
1 jalapeno
3 garlic cloves, divided
3 tbsp sugar, divided
2 tbsp fish sauce, divided
3 med carrots
2 mini cucumbers
radishes
6 green onions
1 bunch of cilantro
1 inch piece of ginger (or more)
1 lb ground pork
sesame seeds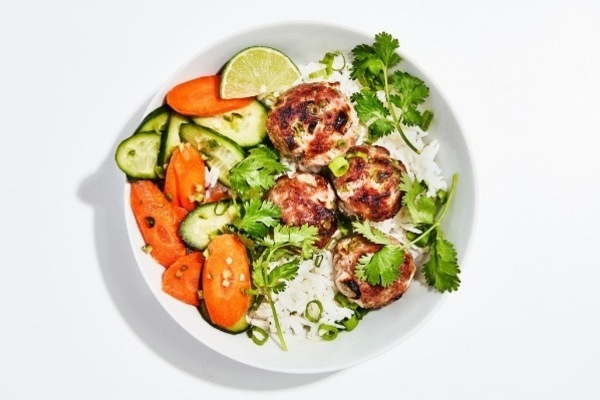 1. 1. Cook the basmati rice.
2. 2. Cut 3 limes in half and squeeze juice into a med bowl. Cut remaining 1 lime into wedges and set aside for serving. Cut off and discard stem of jalapeño. Slice in half and discard seeds and pith. Finely chop and add to the bowl. Using a microplane, finely grate 1 large garlic clove into bowl. Add 2 tbsp sugar, 1 tbsp fish sauce, and 1 cup of water into bowl and whisk to combine. Cut carrots, cucumbers and radishes thinly on the diagonal and to the bowl. Let sit to lightly pickle while you make the meatballs.
3. 3. Thinly slice 6 green onions crosswise. Transfer white and light green parts to a med bowl; reserve darker parts for garnishing later on. Finely chop stems of the cilantro and add to the bowl along with the pork. Reserve cilantro leaves for serving. Finely grate ginger and remaining 2 garlic cloves into bowl. Add the pork, 1 tbsp sugar, 1 tbsp fish sauce and 1 tsp salt. Work together with your hands just until well combined. Don't overwork meatballs or they will become tough.
4. 4. Form pork mixture into 12 to 14 meatballs. Arrange on baking sheet covered with parchment paper. Broil meatballs, rotating pan half way through, until browned on top and just cooked through, 7-8 mins.
5. 5. Uncover and fluff rice. Divide among bowls. Top with meatballs and some of the pickled veggies. Garnish with reserved green onion, cilantro and sesame seeds. Serve with lime wedges and more of the remaining pickling sauce alongside for dipping or drizzling.
main courses February 22, 2020 18:45
Share the recipe with your friends
No one has liked this recipe.
0 comments