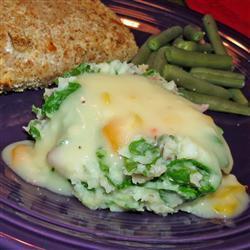 • One table spoon infused olive oil
• One and half cup red bell pepper (diced)
• One and half cup yellow bell pepper (diced)
• One and forth cup all-purpose flour
• Two cups chicken broth
• Black pepper (ground, taste)
• Three ozs baby spinach (leaves)
• One and Half cup grated parmesan cheese
• Two table spoon bacon bits
• One table spoon minced garlic
• Two table spoon butter
• One and half cup cream
• Salt (according to taste)
• Pepper (according to taste)
Prep. Time → 15 min
Cook Time → 45 min
1. • Bring a large pot and place all your potatoes within it and pour salted water unless it covers the potatoes completely. Now boil it with over heat, after few minutes, reduce the heat to medium-low, cover, and simmer 20 minutes more. After that, drain all the water and steam it one to two minutes.
2. • Meanwhile, heat the infused olive oil with a medium heat. Stir it with bell pepper until its turns red and yellow respectively (it will take around 3 minutes). Once done, now stir with 3 minutes more. After that pour in the chicken broth and again cook it with high heat temperature. Reduce the heat medium low and simmer about 15 minutes, and after that just season with some black paper.
3. • Once the potatoes have drained all the water, pour them back into the pot along with baby spinach, Parmesan cheese, bacon bits, and garlic. Mash those until it gets smooth. Add some butter and some cream and season it with some salt and black paper.
starters, balsamic aged, infused olive oil, pasta sauce, lemon olive oil March 26, 2014 12:24
Author Sonoma Farm (sonomafarm.com/)