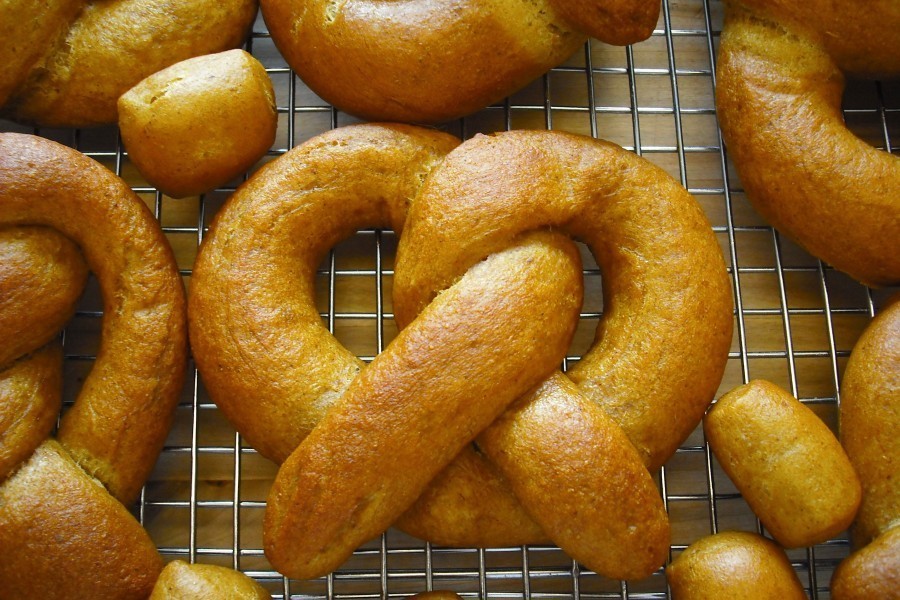 Ingredients
for 12 Pieces
240g cup stout
1/2 cup pure pumpkin puree
42.5g light brown sugar
2.25 tsp yeast
2 Tbsp vegetable oil
420g cups all-purpose flour
140g whole wheat flour
2 tsp cinnamon
1/2 tsp freshly grated nutmeg
1/4 tsp ground ginger
1/4 tsp ground cloves
1/2 tsp sea salt
35g baking soda (for boiling)
For topping
56.25g granulated sugar
1 Tbsp turbinado sugar
1 tsp ground cinnamon
1/4 tsp freshly grated nutmeg
1/4 tsp ground ginger
1/4 tsp ground cloves
1 tsp Kosher salt
Prep. Time → 90 min
Cook Time → 20 min
1. To make these pumpkin and stout soft pretzels, combine stout, pumpkin puree and brown sugar in a medium saucepan. Heat over medium heat, stirring, until very warm but not hot (no hotter than 43°C, please).
2. Remove pan from heat and sprinkle yeast over the pumpkin mixture. Stir and let stand 5 minutes. At the end of that time, your yeast should be "blooming."
3. To the bowl of a stand mixer, add all-purpose flour, whole wheat flour, salt and spices. Pour in the pumpkin-yeast mixture, add the oil, and stir with a wooden spoon or spatula to moisten dry ingredients. If the dough is too dry, add another tablespoon or two of stout.
4. Using the dough hook attachment, knead on medium speed for 2-3 minutes, until dough forms a smooth ball around the hook and doesn't cling to the sides of the bowl. If the dough is too sticky, add additional flour a tablespoon at a time.
5. Cover the dough with plastic wrap and set in a warm place to rise for about 45 minutes. The dough won't quite double, but it should have a decent lift.
6. Line baking sheets with parchment and spray with pan spray. Divide dough into 12 equal pieces (I weighed mine whole, then used a calculator to divide the ounce total by 12 for accuracy; pastry chef habit), and roll each piece into a rope about 45cm long.
7. Form each dough rope into a pretzel and place on pans. Cover pretzels with a clean linen cloth and let rise for 25 minutes.
8. Bring a stockpot or other large pot of water just to a boil. Add ¼ cup baking soda — careful, it will bubble aggressively for a moment — and stir to dissolve. Boil the pretzels in batches for about a minute, turning halfway through.
9. Remove pretzels from water bath and let drain for a minute on clean towels.
10. While you're boiling the pretzels, preheat the oven to 230°C. Place boiled pretzels on parchment-lined and sprayed baking sheets. Bake for 12 to 15 minutes, or until deep golden brown.
11. Transfer the pretzels to a rack to cool completely. While they're cooling, combine sugars, spices, and salt in a pie plate or similar rimmed dish. Brush the pretzels with a very light coat of melted butter, then toss in sugar-spice mixture until coated.
side dishes, bread August 20, 2017 22:20
Author https://craftbeer.com/recipes/pum...
Share the recipe with your friends
No one has liked this recipe.
0 comments