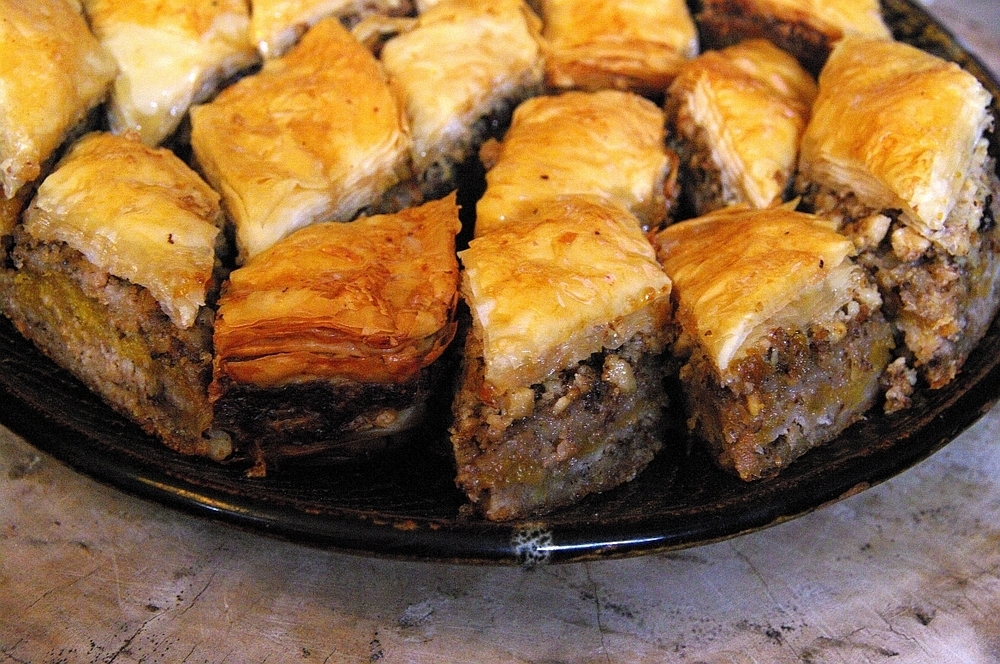 1 lb phyllo dough, thawed
FILLINGS
Pumpkin (Winter Squash)
2 cups cooked winter squash
1 egg
1/2 cup brown sugar
1/2 tsp salt
1 tsp cinnamon
5 cloves
12 seeds cardamom
Nuts
12 oz walnuts
1/2 cup` bread crumbs
1/4 cup brown sugar
12 oz unsalted butter, melted
SYRUP
1 cups honey
2/3 cups water
1 cups sugar
few sprigs lavender
1/2 tsp orange flower water
Prep. Time → 60 min
Cook Time → 60 min
1. I made this one up. It's based on baklava that I knew how to make. It's not easy, and requires patience and skill.
2. Heat the oven to 350 degrees F.
3. Pumpkin (Winter Squash)
4. 1. Place the spices in a mortar along with the cloves and grind to a powder.
5. 2. Add to pumpkin (winter squash), brown sugar, salt, and egg. Mix well and set aside.
7. Toast nuts in oven for 15 minutes. Cool and chop into small bits.
8. 1. Place the nuts, sugar and freshly ground spices into the bowl. Set aside.
10. 1. Cut phyllo to fit in your pan (I use scissors). A little larger is OK, smaller not so much, but don't worry too much. This recipe will use about 3/4 of the pound of phyllo.
11. 2. Brush the bottom and sides of the pan with butter. Then lay down a sheet of phyllo and brush with butter. Repeat this step 9 more times for a total of 10 sheets of phyllo.
12. 3. Top with 1/2 of the nut mixture and spread evenly. Layer 5 more sheets of phyllo with butter in between each of them
13. 4. Put pumpkin (winter squash) filling over this. Make sure you butter the side of the phyllo sheets that touches this filling next.
14. 5. Follow with four more sheets (a total of five) then another half of the nut mixture. Top with 10 sheets of phyllo brushing with butter in between each sheet. Brush the top generously with butter.
15. 6. Cut lengthwise part-way into strips, then at a diagonal across the width to create diamonds. Do not make tiny pieces; stop the diagonal cuts to avoid this.
16. 7. Place in the oven and bake for 1 hour, checking at 45 minutes to make sure it's not burnt. Remove pan from the oven, place on a cooling rack, and cool for 2 hours before adding the syrup.
18. 1. Make the syrup during the last minutes of cooling so it's still hot. Combine the honey, water, sugar, and lavender in a 4-quart saucepan and set over high heat. Stir occasionally until the sugar has dissolved.
19. 2. Boil for 5 minutes, stirring Add orange flower water, and set aside, but don't use while still very hot.
21. 1. After the baklava has cooled for 2 hours, re-cut the entire pan following the same lines as before.
22. 2. Pour the hot syrup evenly over the top of the baklava, allowing it to run into the cuts and around the edges of the pan.
23. 3. Allow the pan to sit, uncovered until completely cool. Cover and store at room temperature for at least 8 hours and up to overnight before serving. Store, covered, at room temperature for up to 5 days.
24. Tips
I don't bother with the damp towels or other procedures for keeping the phyllo pliable, but instead am really fast with it. If you aren't - go ahead and use these techniques.
desserts, honey, middle eastern, nuts, sweet, vegetarian December 10, 2016 16:29
Share the recipe with your friends
No one has liked this recipe.
0 comments