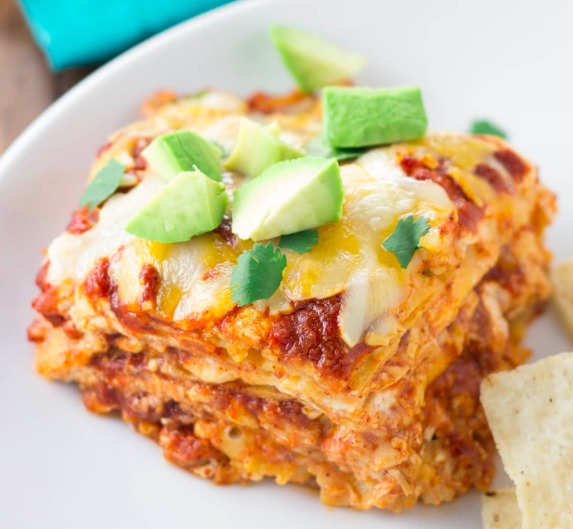 For the Enchilada Sauce
1 tsp. olive oil
½ cup finely minced red onion (you can also chop ½ cup onion for the casserole)
2 cloves garlic, minced
1 tbsp. chili powder
½ tbsp. cumin
¼ tsp. salt
15 oz. can tomato sauce
½ cup water
For the Casserole
1 cup uncooked quinoa, rinsed well
2 small sweet potatoes, peeled and cut into ½-inch cubes (about 2 cups)
15 oz. can black beans, rinsed and drained
2 cups grated cheddar cheese
½ cup finely chopped red onion
¼ cup chopped fresh cilantro, plus more for garnish
Greek yogurt or sour cream, for serving (optional)
1. Make the Enchilada Sauce:
Heat olive oil in a small saucepan over medium heat. Add onion and cook, stirring occasionally, until soft, about 5 minutes. Add garlic, chili powder, cumin, and salt and cook, stirring, 30 seconds. Add tomato sauce and water. Bring to a low simmer, reduce heat, cover, and simmer for 5 minutes. Remove from heat.
2. Cook the Quinoa:
In a medium saucepan, bring 1 ½ cups water to a boil. Stir in the quinoa, reduce heat, cover, and simmer until all liquid has been absorbed, about 15 minutes. Remove from heat.
3. Cook the Sweet Potatoes:
Set a steamer basket over a pot of water and bring to a boil. Place sweet potato cubes in the steamer basket, cover, and steam until just tender, about 10 minutes. Uncover and let cool slightly.
4. Assemble the Casserole:
Preheat oven to 350 degrees F. Lightly spray a 3-quart baking dish with cooking spray.
In a large bowl, combine quinoa, sweet potatoes, black beans, enchilada sauce, 1 ½ cups of the cheese, red onion, and ¼ cup cilantro. Stir until everything is well combined. Transfer to the prepared baking dish. Top with remaining ½ cup of cheese.
5. Bake until casserole is hot and cheese is melted, about 20 minutes. Let stand for 5 minutes. Serve with additional chopped fresh cilantro and Greek yogurt or sour cream, if desired.
main courses, casserole, mexican, quinoa, sweet potato, vegetarian November 13, 2016 04:07
Author kristineskitchenblog.com/quino...
Share the recipe with your friends
No one has liked this recipe.
0 comments