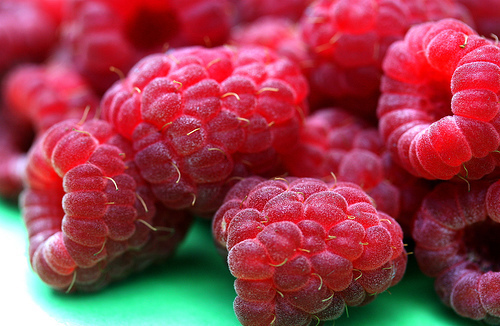 Ingredients
for 8 large or 16 average size muffins
2 eggs
125ml vegetable oil
250ml milk
1 tsp vanilla extract
200g sugar
400g plain flour
3 tsp baking powder
1 tsp salt
100g white choc chips
150 g fresh raspberries
Prep. Time → 15 min
Cook Time → 25 min
1. Preheat the oven to 200°C (gas mk 6, 400°F).
2. Place the egg, oil, milk, vanilla essence and sugar in a mixing bowl and beat together until sugar has dissolved.
3. In another large bowl, thoroughly mix the flour, baking powder and salt. Add the white chocolate chips - mix.
4. Add the liquid mix to the dry, and roughly mix it in - it does not have to be absolutely smooth.
5. Add the raspberries last and mix very, very carefully not to break up the fruits (you can never avoid a few of them mixing in with the dough...).
6. Fill a muffin tray with paper muffin cases, and then fill each case approximately two thirds with the muffin mixture.
7. Bake the muffins for 25 minutes.
desserts, cake, chocolate, muffin, raspberry, white November 07, 2011 22:38
Author Muffinrecipies.co.uk @ muffinrecipes.co.uk/page16...