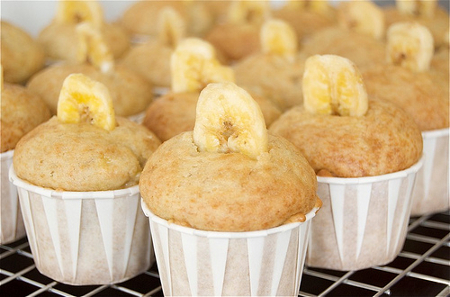 Ingredients
100 gramos de harina de trigo todo uso.
1 cucharadita de polvo para hornear.
100 gramos de banana en puré.
50 gramos de azúcar blanca.
3 huevos.
60 gramos de leche.
1 cucharadita de esencia de vainilla.
1. Prepara un envase para muffins o cupcakes con capacillos del tamaño adecuado. Calienta el horno a 170°C.
2. Haz a un lado dos envases. Primero uno pequeño donde mezclarás los huevos y el azúcar. Luego añade la banana, la vainilla y la leche. Mezcla bien.
3. En otro envase más grande mezcla la harina y el polvo para hornear. Añade los ingredientes húmedos en este envase y mezcla, sin sobre batir para que no queden duros.
4. Llena los envases y hornear por 25 minutos o hasta que salga un cuchillo limpio desde el centro y estén ligeramente dorados por encima.
5. Deja enfriar por completo antes de comerlos.
desserts July 14, 2013 21:12
Share the recipe with your friends
No one has liked this recipe.
0 comments