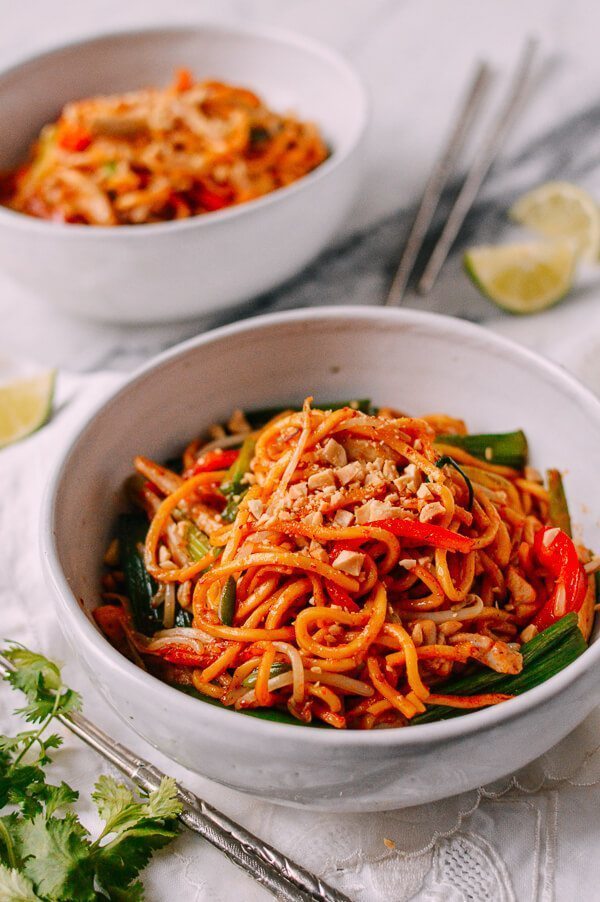 Ingredients
These red curry noodles make great use of canned Thai red curry paste, a versatile ingredient that packs a ton of flavor. This quick and easy noodle dish takes only a half hour to prepare.
Recipe type: Noodles
Cuisine: Asian
Serves: 6
Ingredients
8 oz. boneless skinless chicken thighs, cut into thin strips
1 teaspoon cornstarch
Vegetable oil
3 tablespoons Thai red curry paste
½ cup coconut milk
1 pound fresh cooked egg noodles
½ of a red bell pepper, thinly sliced
2 cups bean sprouts
5 scallions, cut into 2-inch lengths
Lime wedges
2 tablespoons chopped peanuts (optional)
Instructions

Combine the raw chicken with 1 teaspoon of cornstarch and 1 teaspoon vegetable oil. Set aside while you prepare the rest of the ingredients.
When you're ready to cook, heat a wok over medium high heat, and add a tablespoon of vegetable oil, along with the chicken. Stir-fry the chicken until opaque, remove from the pan, and set aside.
Add the red curry paste. Fry for one minute, and add the coconut milk. Add the noodles and stir-fry, loosening up the noodles as you go.
Add the red bell pepper and stir-fry for 1 minute. Add the cooked chicken, bean sprouts and scallions and cook for another 2 minutes, until the scallions are wilted.
Serve with lime wedges, and garnish with chopped peanuts if using.
Prep. Time → 15 min
Cook Time → 10 min
July 27, 2018 12:52
Author sandra cou
Share the recipe with your friends
No one has liked this recipe.
0 comments