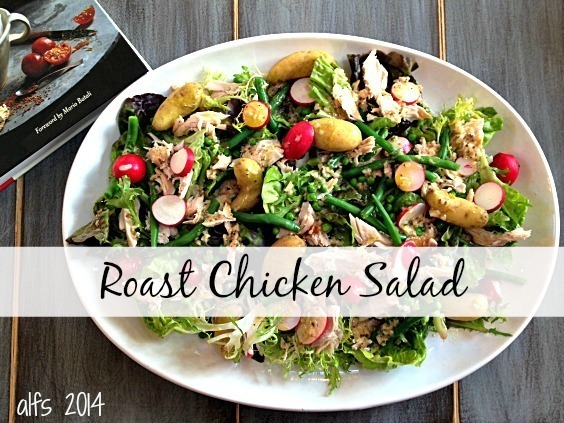 Ingredients
INGREDIENTS

8 small fingerling potatoes
Coarse salt
2 large handfuls haricots verts, ends trimmed
4 large handfuls of lovely salad greens. I used a mix of butter lettuce, endive, and red leaf lettuce
freshly ground black pepper
1/2 cup vinaigrette (see recipe below)
1 small roast chicken (still warm)
5 radishes, thinly sliced
1 cup fresh (or frozen) peas
VINAIGRETTE INGREDIENTS

2 large shallots, finely diced
1 tsp fresh thyme, chopped
1 small garlic clove, finely minced
2 TBS champagne vinegar
1/2 cup evoo
1 TBS water
pinch sugar
1 TBS dijon mustard
1 TBS whole grain mustard
1/2 tsp salt
few grinds of black pepper
1. Place the potatoes in a pot, cover with cold water, add a spoonful of salt and bring to a boil. Cook until tender, about 20 minutes. Using a slotted spoon remove the potatoes and set them aside to cool. Add the haricots verts to the cooking water and cook until just tender, roughly 3 minutes. Drain and transfer to a plate to cool.
2. Arrange the greens on a large platter and sprinkle with salt & pepper. Pour a bit of the dressing over them. Slice up the potatoes thinly (I kept mine whole!) and add to the platter along with the radishes, haricots verts, and peas. Pull off the meat from the (warm) chicken and arrange on top and drizzle remaining dressing. Killer.
main courses, salad February 23, 2016 18:59
Author a-life-from-scratch.com/
Share the recipe with your friends
No one has liked this recipe.
0 comments