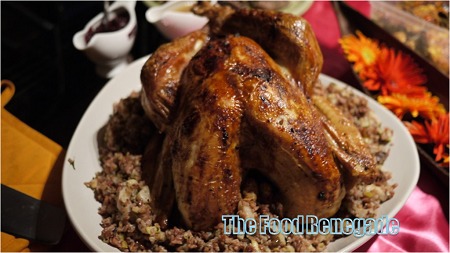 Ingredients
for 12-14lb turkey
12-14lb (5.4-6.4kg) turkey - already thaw, brined, necks and giblet removed reserved for stock
1 1/4 teaspoons sea salt (grind)
1/2-1 teaspoon black crack pepper
2 large Oranges + zest, cut into wedges skin on
3 Red Onions, peel & cut in wedges
Some herbs (thyme, sage, bay leaves etc)
250 gms of unsalted butter
1. Prep the Turkey!
Pre-heat the oven to 220°C (425°F)
Rinse the turkey from the brine.
Pat dry the turkey inside and out.
Place the turkey on a roasting tray, breast up.
Rub the turkey with salt, pepper, orange zest and some butter.
There's a piece of loose fat on the top of the neck cavity, pull that down under the bird and secure it with a small skewer or toothpick.
Stuff the cavity with oranges, 1 onion and herbs. Do not over stuff it, you will need the hot air to work inside the turkey too
Tie the drumsticks together with butcher string to cover the cavity.
Skewer the wings to the body, I like to wrap the wing tip with foil to prevent it from drying.
2. Time to Roast the Birdie!
This may be a little unusual but I like to cover my turkey loosely with foil so it cook and I'll roast it in the last 45mins.
So....
Cover the turkey loosely with foil
Pop it into the oven (middle section if you have a large oven)
Immediately turn the heat down to 180°C (350°F)
Prep your baste with melted butter (you may squeeze some orange juice and add some chop herbs in it)
30mins later - throw in the remaining onions and oranges, baste the turkey with butter
20mins -baste
20mins -baste and continue every 20mins depending on the size of the turkey. (Jamie Oliver recommend 20mins for every kg)
At the last 45mins -baste, remove foil, if onions starts to dry up and darken, add a little water into roasting pan
30-45mins later - check if its brown enough, you may want to pierce the fattest part of the turkey, thigh and breast to see if its cook. If it oozes clear juice...it's done, if slightly pink...just a little longer.
3. Tip- Please note the timing is just a guide, there is not precise time on how long you should roast your turkey for. You may have to a little conservative to baste the check on the turkey as often as possible towards the last lap of the cooking time. If the turkey is not cook yet and its getting too brown, cover it with foil.
4. Turkey Up!
Once the turkey is done, remove the stuffing in the turkey. Transfer the birdie onto a platter and let it rest for about 30mins, cover loosely with foil.
Keep the pan juices as you can use that to make a wicked gravy!
main courses, orange, recipes, roast, thanksgiving, turkey November 24, 2011 05:53
Author Spin off from Epicurious
Share the recipe with your friends
No one has liked this recipe.
0 comments