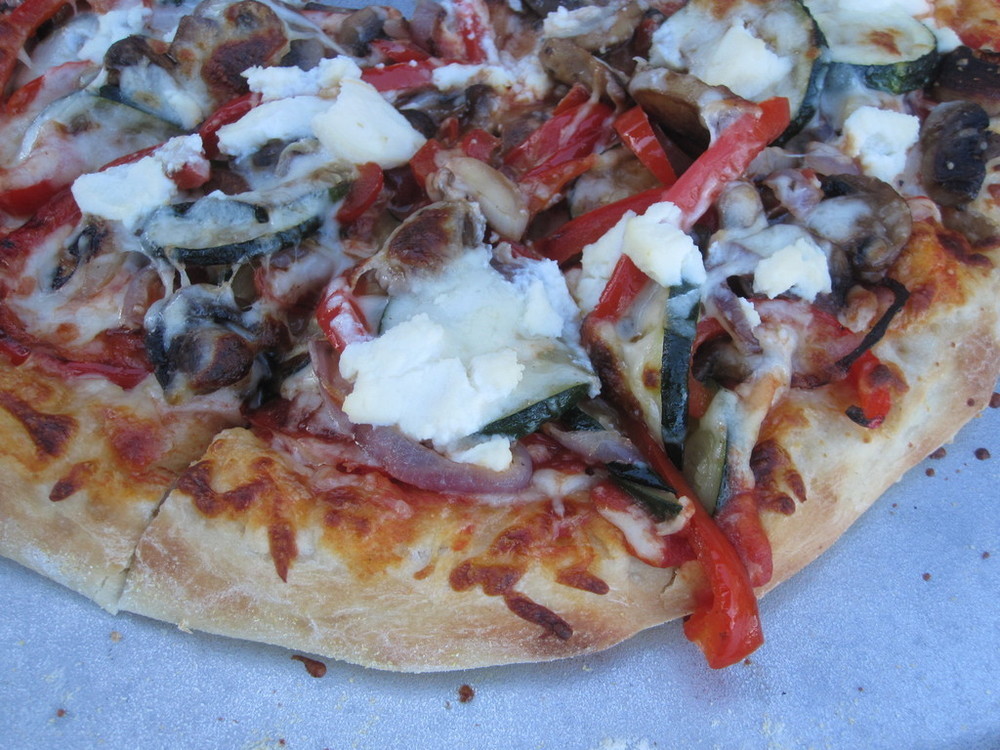 Ingredients
1 pound refrigerated fresh pizza dough
2 cups sliced cremini mushrooms
1 cup (1/4-inch-thick) slices zucchini
1/4 teaspoon black pepper
1 medium red bell pepper, sliced
1 medium red onion, cut into thick slices
5 1/2 teaspoons olive oil, divided
1 tablespoon yellow cornmeal
1/3 cup tomato sauce
1 cup (4 ounces) shredded part-skim mozzarella cheese
1/2 teaspoon crushed red pepper
1/3 cup part-skim ricotta cheese
1. Preheat oven to 500 degrees.
2. Remove dough from refrigerator. Let stand, covered, for 30 minutes.
3. Combine mushrooms and next 4 ingredients (through onion) in a large bowl; drizzle with 1 1/2 tablespoons oil. Toss.
4. Arrange vegetables on a jelly-roll pan. Bake at 500° for 15 minutes.
5. Sprinkle a lightly floured baking sheet with cornmeal; roll dough out to 15-inch circle on prepared baking sheet.
6. Brush dough with 1 teaspoon oil. Spread sauce over dough, leaving a 1/2-inch border.
7. Sprinkle 1/2 cup mozzarella over sauce; top with vegetables.
8. Sprinkle 1/2 cup mozzarella and red pepper over zucchini mixture. Dollop with ricotta.
9. Bake at 500° for 11 minutes or until crust is golden.
main courses, pizza, vegetarian September 23, 2012 03:55
Author myrecipes.com/recipe/roast...
Share the recipe with your friends
No one has liked this recipe.
0 comments