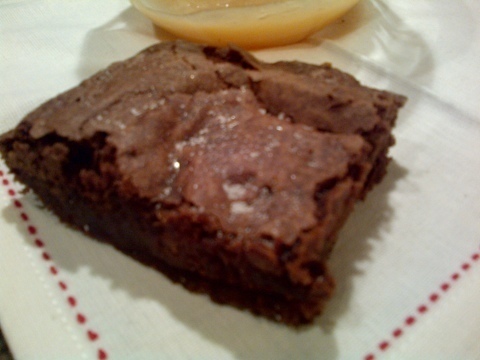 Ingredients
INGREDIENTS FOR CARAMEL FILLING

1 cup sugar
2 TBS light corn syrup
1/2 cup heavy cream
1 tsp fleur de sel, or sea salt will work
1/4 cup sour cream
INGREDIENTS FOR BROWNIES

1 1/4 cup flour
1 tsp salt
2 TBS dark unsweetened cocoa powder
11 oz dark chocolate, coarsely chopped
1 cup unsalted butter, cut into small chunks
1 1/2 cups sugar
1/2 cup firmly packed light brown sugar
5 large eggs, room temp
2 tsp vanilla
1. Let's make the caramel: in a medium saucepan combine the sugar and corn syrup with 1/4 cup water, stirring together gently. Cook over high heat until you have an amber color, between 6-8 minutes. Remove from the heat and slowly add the cream (careful, it will bubble, and thats ok)! Then add the fleur de sel. Whisk in the sour cream. Seat aside to cool. Voila - you just made caramel!
2. Ok, time for the brownies! Preheat the oven to 350 degrees. Butter the sides and bottom of a 9X13 pan. Line the bottom with a sheet of parchment paper and butter that as well.
3. Place the chocolate and butter in a bowl. Set over a pan of simmering water and stir until completely melted. Turn off the heat, but keep the bowl over the water, and whisk in both sugars until completely combined. Now remove the bowl and let sit until it's at room temperature.
4. Meanwhile, whisk together the flour, salt, and cocoa powder in a separate bowl.
5. To the cooled melted chocolate, add in 3 of the eggs and mix until just barely combined. Then add the remaining 2 eggs and mix again until just combined. Add in the vanilla and (notice a pattern?) mix until just combined. Basically, don't over mix at all - this will make the brownies cake like instead of ooey gooey.
6. Last step! Sprinkle the flour mixture over the chocolate and fold in extra gently until barely combined.
7. Pour half of the brownie mixture into the bottom of your pan. Drizzle 3/4's of the caramel over the brownie layer in a zig zag pattern. Don't let the caramel hit the edges as it will burn. Scoop the remaining brownie mixture over the top and smooth with a spatula.
8. Original recipe calls to bake for 30 minutes but I found them to be a hair under done at that timing so I went with 32 minutes on round two and it was perfect. Let rest for quite a while before cutting....I know, I know. Easier said than done. Sprinkle with more caramel if desired - or coarse sugar - or fleur de sel...
desserts, brownies February 25, 2016 01:16
Author a-life-from-scratch.com/
Share the recipe with your friends
No one has liked this recipe.
0 comments