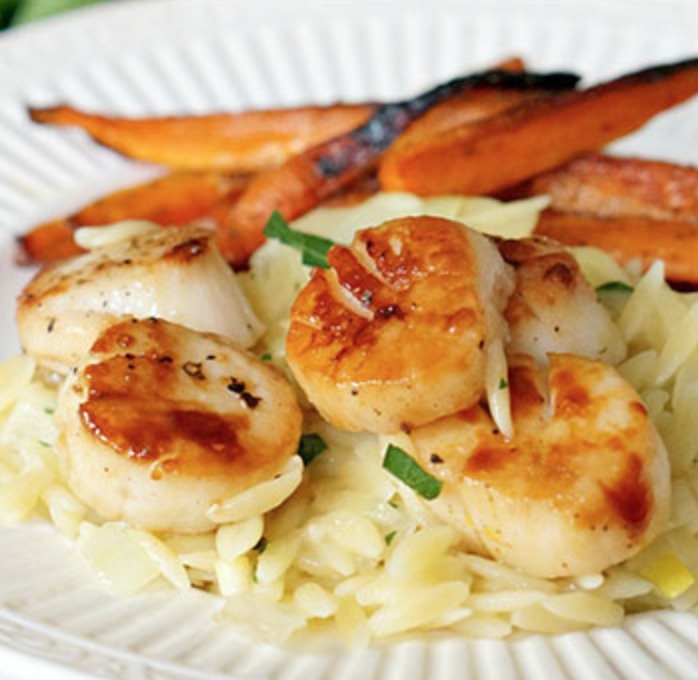 1-½ pounds sea scallops, patted dry
1 tablespoon olive oil
Salt and pepper to taste
Harris Teeter Olive Oil Cooking Spray
½ cup chopped onion
1 cup uncooked orzo
2 cups Harris Teeter Chicken Broth
½ cup dry white wine
¼ tsp. dried tarragon
2 tablespoons chopped fresh chives
1 tablespoon heavy cream
Juice of one lemon
Prep. Time → 15 min
Cook Time → 20 min
1. Heat a medium sauce pan over medium-high heat. Coat with cooking spray and add the chopped onion. Sauté for three minutes then stir in the pasta, broth, wine and tarragon.
2. Bring to a boil and cover, simmering for 15 minutes and pasta is al dente. Stir in chives, heavy cream and lemon juice. Remove from heat and keep warm.
3. Heat oil in a large heavy-bottomed skillet. Sprinkle scallops with salt and pepper. Add them to the pan and cook for three minutes on each side or until golden on each side. Serve on top of orzo mixture.
main courses, orzo, pasta, scallops, seafood April 02, 2020 19:10
Author https://harristeeter.com/meal-pla...
Share the recipe with your friends
No one has liked this recipe.
0 comments