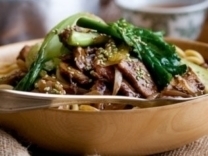 1 tbs peanut oil
600g pork fillet, thinly sliced
2 tsp sesame oil
1 bunch spring onions, trimmed, bulbs cut into wedges
2 garlic cloves, thinly sliced
1/2 tsp Chinese five-spice
1/2 tsp Sichuan peppercorns, lightly crushed
1/2 cup (125ml) oyster sauce
2 tbs shaoxing wine or dry sherry
1 bunch Chinese broccoli, chopped
1 bunch baby bok choy, sliced lengthways
Hokkien noodles, to serve
Toasted sesame seeds, to serve
Prep. Time → 15 min
Cook Time → 10 min
1. Heat half the oil in a wok over high heat until just smoking. Add one-third of the pork and stir-fry for 1 minute or until browned. Transfer to a bowl. Repeat in 2 more batches with remaining pork, reheating wok between batches.
2. Heat sesame oil in the wok over high heat. Add spring onions, garlic, Chinese five-spice and Sichuan pepper and stir-fry for 1 minute or until aromatic. Add pork, oyster sauce, wine, broccoli and bok choy and stir-fry for 2 minutes or until heated through and bok choy just wilts.
3. Heat hokkien noodles following packet instructions. Drain well. Divide among serving bowls. Top with stir-fry and sprinkle with sesame seeds. Serve immediately.
4. Can use wasabi coated sesame seeds available from Asian grocers.
main courses, chinese, pork, stir fry, stir-fry, sesame, oyster sauce, five spice, wok July 16, 2011 03:59
Author Notebook magazine - September 2009