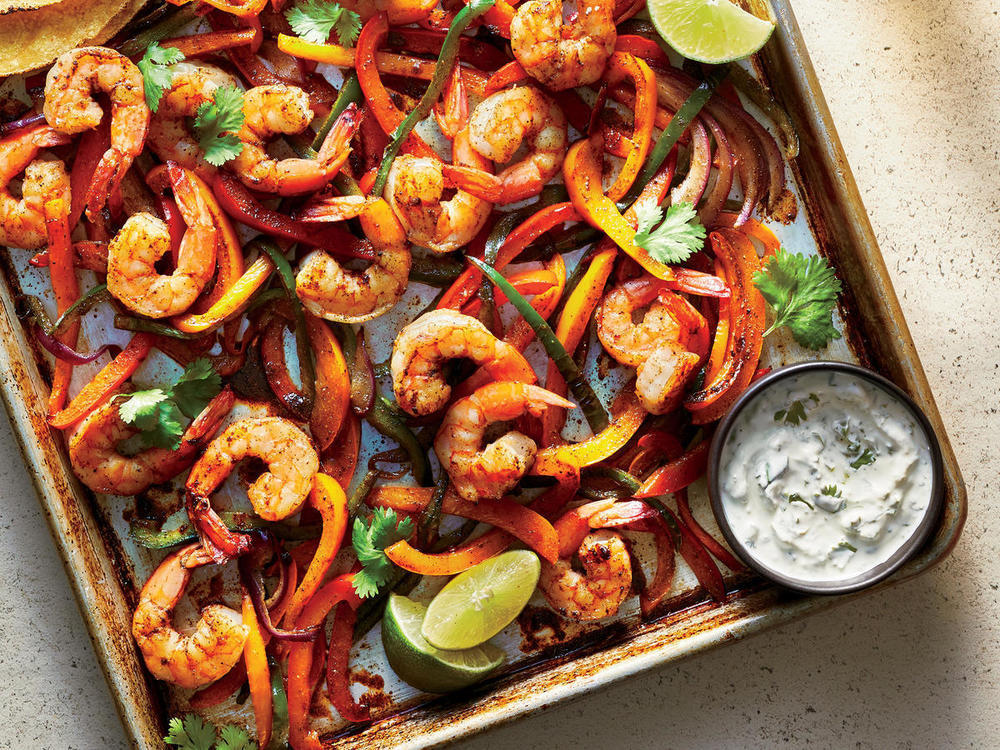 Ingredients
1 1/4 pounds peeled and deveined raw large shrimp
1 red bell pepper, sliced
1 orange bell pepper, sliced
1 cup sliced poblano chile
1 cup sliced red onion
3 tablespoons olive oil
1 tablespoon chili powder
1 teaspoon ground cumin
3/4 teaspoon kosher salt, divided
1/2 teaspoon ground coriander
3/4 cup sour cream
1 tablespoon chopped fresh cilantro
1 tablespoon finely chopped seeded jalapeño
1/4 teaspoon lime zest
1 Tbsp. fresh lime juice
1 small garlic clove, grated
8 (6-inch) corn or flour tortillas
1/4 cup packed fresh cilantro leaves
2 limes, cut into wedges
2. Step 1
Place oven racks in center and upper third positions of oven. Preheat oven to 400°F. Toss together shrimp, bell peppers, poblano, onion, oil, chili powder, cumin, 5/8 teaspoon salt, and coriander on a baking sheet lined with aluminum foil. Place on middle rack of oven; roast until shrimp are cooked through, 9 to 10 minutes. Transfer shrimp to a plate, reserving remaining vegetable mixture on baking sheet. Cover shrimp with foil to keep warm.
3. Step 2
Turn broiler to high. Broil vegetables on upper oven rack until slightly charred, 3 to 4 minutes, and set aside. Stir together sour cream, chopped cilantro, jalapeño, lime zest and juice, garlic, and remaining 1/8 teaspoon salt in a bowl.
4. Step 3
Spoon shrimp and vegetables evenly onto warm tortillas; top with sour cream mixture. Sprinkle with cilantro leaves; serve with lime wedges.
main courses May 23, 2022 17:18
Author Cooking Light
Share the recipe with your friends
No one has liked this recipe.
0 comments