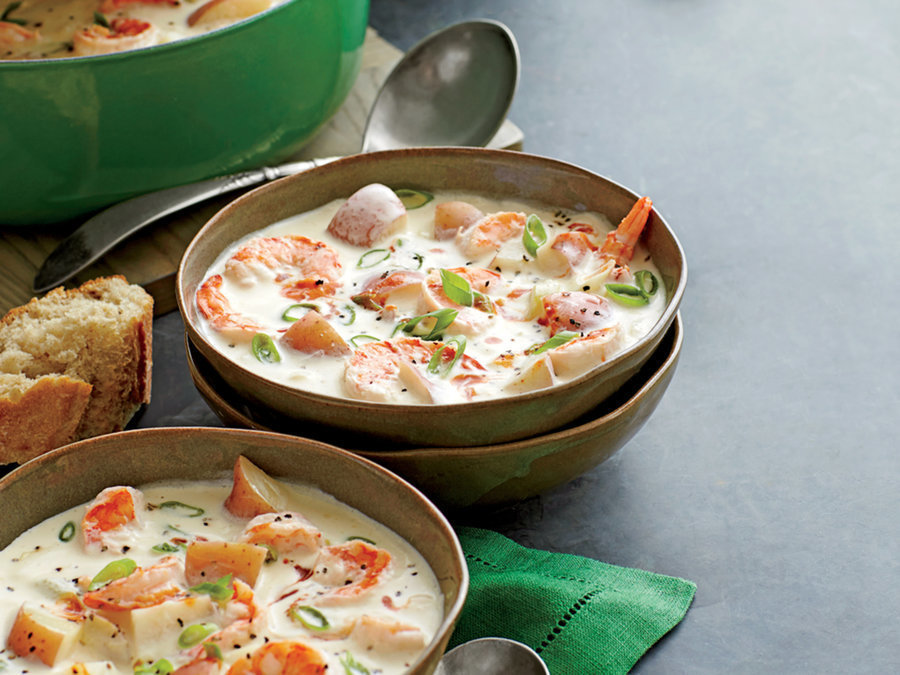 2 tablespoons butter
3 bunches of green onions, sliced
1-1/2 pounds new potatoes, sliced
2 cups chicken broth
1-1/2 cups heavy cream
1/2 cup dry white wine
1 teaspoon Kosher salt
1/2 teaspoon black pepper, freshly ground
1/2 pound medium-size shrimp, raw, peeled and deveined
2 teaspoons hot sauce
Prep. Time → 20 min
Cook Time → 30 min
1. Slice green onions and new potatoes about the same size so the potatoes and onions are cooked through at the same time.
2. Melt butter in a medium Dutch oven over medium heat. Add green onions, and cook, stirring often, 1 minute.
3. Add potatoes and next 5 ingredients, and increase heat to high. Bring to a boil. Reduce heat to medium-low, and cook, stirring occasionally, 25 minutes or until potatoes are tender.
4. Stir in shrimp and hot sauce, and cook 3 minutes.
main courses, shrimp, soup, seafood May 11, 2017 10:03
Author myrecipes.com/recipe/shrim...
Share the recipe with your friends
No one has liked this recipe.
0 comments