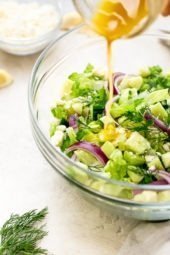 Ingredients
for 4 servings
3 tbsp roughly chopped red onion
1 tbsp plus 1 tsp extra-virgin olive oil
1 1/2 tbsp apple cider vinegar (I love Bragg)
1/2 tsp salt
Freshly ground black pepper
1 cup chopped tomatoes
1/8 tsp garlic powder
1/8 tsp dried oregano
1 cucumber, cut into 1 inch pieces ( about 1 1/2 cups)
1 med avocado, chopped
3 cups chopped romaine lettuce
Add any other veggies you would like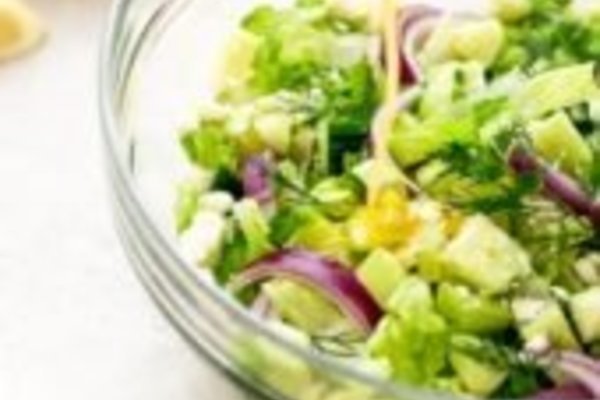 1. In a large bowl, combine the red onion with 1 tbsp olive oil, 1 tbsp vinegar, 1/4 tsp salt, and black pepper to taste. Let sit until the onion flavour mellows, 5 mins.
2. Add tomato, garlic powder, oregano, the remaining 1/4 tsp salt (if needed), and a pinch of pepper. Let sit for at least another 5 mins. Add the cucumber and toss.
3. When ready to serve, toss in the avocado and lettuce, the remaining tsp olive oil and the remaining 1/2 tbsp vinegar.
4. 1 3/4 cup serving
117 calories
10g fat
1.5g saturated fat
7g carbohydrate
4g fiber
2g protein
3g sugar
148 mg sodium
side dishes February 07, 2021 19:05
Share the recipe with your friends
No one has liked this recipe.
0 comments