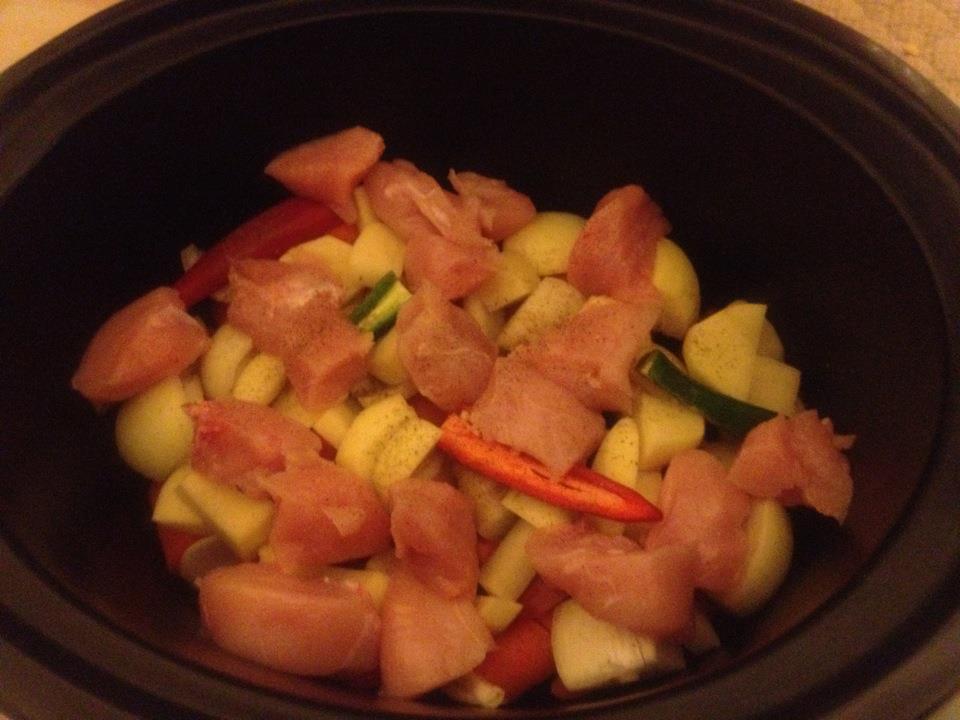 Skinless chicken fillets (preferably free range), a large Maris Piper Potato, four large carrots, 2 large Spanish cooking Onions, Cracked Black Pepper, Coarse Rock Salt, Red Chilli, Green Chilli, Ginger, Garlic, Cumin, Cloves, enough cold water to cover all the ingredients above in a slow cooker
Prep. Time → 25 min
Cook Time → 9 hours min
1. Roughly chop & shallow fry the onions with garlic in a pan until they've sweated down & reduced, going transluscent, with the garlic, roughly chopped & add these to the bottom of the slow cooker. Finely dice the potato and add, along with the other ingredients laying rougly chopped carrots first, and then the chicken. The chicken should be washed and cut into approx 2cm pieces, garnish with a few cloves, Cumin chopped chilli (leave the seeds in if you want the earth to fall out of your bottom) and season well with plenty of Salt & Pepper. Grate a couple of tablespoons of ginger over the top and cover with freshly boiled water. In a slow cooker, set to 'low' this should take approx nine hours to reduce. At the last stages of cooking, give it a stir, skimming off any fat, and add freshly chopped coriander, and maybe some lemon grass shoots & green beans. Serve it up with Jasmin rice, poppdums & chutneys, maybe a naan or two.
main courses, curry March 14, 2012 14:33
Author Mario De'Cristofano
Share the recipe with your friends
No one has liked this recipe.
0 comments