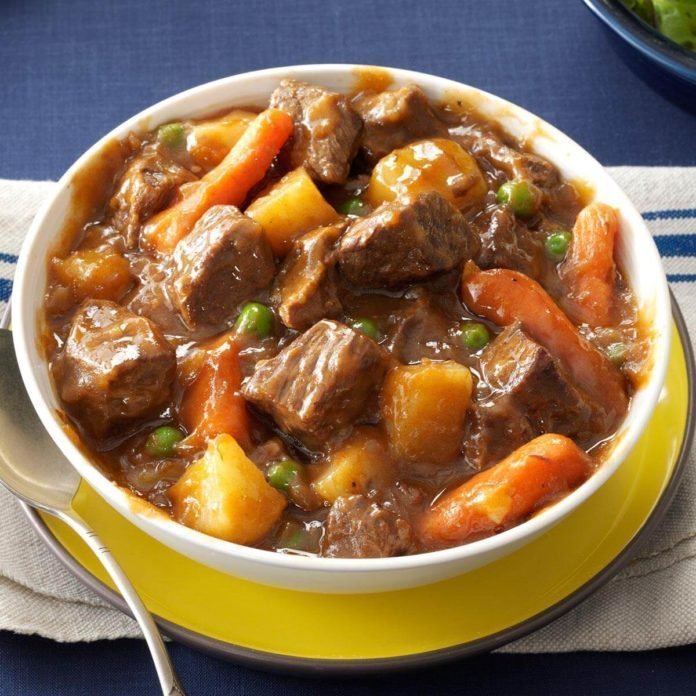 Ingredients
for 8 servings
1-1/2 pounds boneless beef chuck roast, cut into 1-inch cubes
3 medium potatoes, peeled and cubed
3 cups water
1-1/2 cups fresh baby carrots
1 can (10-3/4 ounces) condensed tomato soup, undiluted
1 medium onion, chopped
1 celery rib, chopped
2 tablespoons Worcestershire sauce
1 tablespoon browning sauce, optional
2 teaspoons beef bouillon granules
1 garlic clove, minced
1 teaspoon sugar
3/4 teaspoon salt
1/4 teaspoon pepper
1/4 cup cornstarch
3/4 cup cold water
2 cups frozen peas, thawed
Prep. Time → 20 min
Cook Time → 390 min
1. 1) Place the beef, potatoes, water, carrots, soup, onion, celery, Worcestershire sauce, browning sauce if desired, bouillon granules, garlic, sugar, salt and pepper in a 5- or 6-qt. slow cooker. Cover and cook on low until meat is tender, 6-8 hours.
2. 2) Combine cornstarch and cold water in a small bowl until smooth; gradually stir into stew. Stir in peas. Cover and cook on high until thickened, 30 minutes.
main courses December 02, 2018 16:48
Author https://tasteofhome.com/recipes/s...
Share the recipe with your friends
No one has liked this recipe.
0 comments