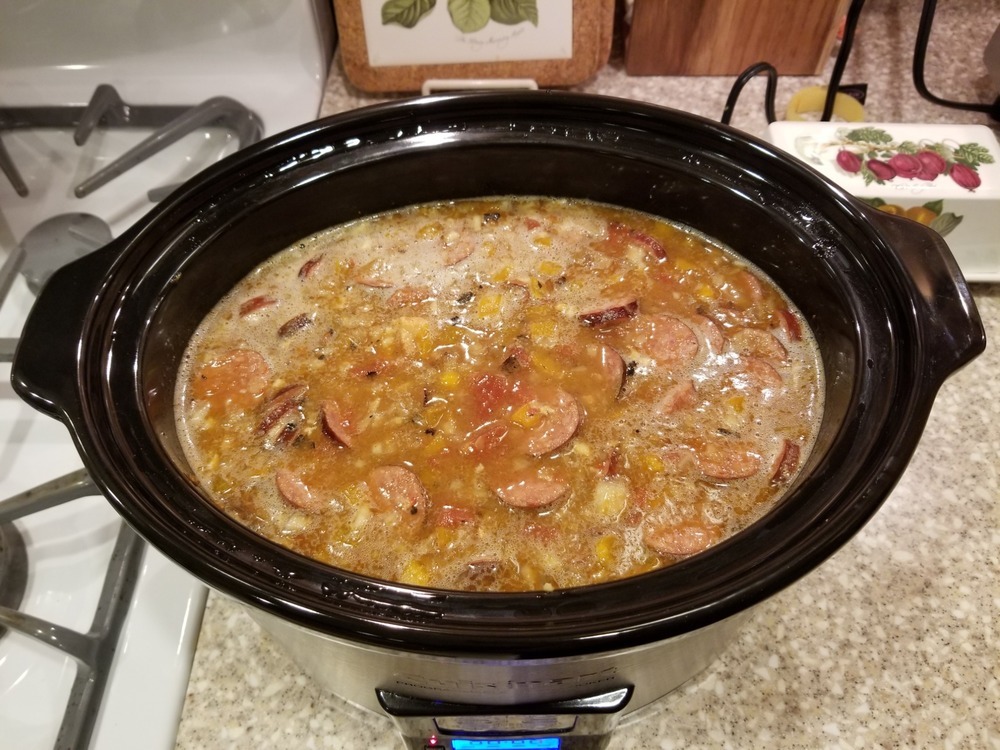 Ingredients
for 6-8 servings
4 T canola oil or vegetable oil
1 medium yellow onion
1 medium bell pepper (any color), chopped
2 cloves garlic, minced
14 oz. andouille sausage, sliced into 1/4" pieces
1 T Cajun seasoning
kosher salt, to taste
Freshly ground black pepper, to taste
1 bay leaf
15 oz (1 can) fire-roasted diced tomatoes
4 C chicken broth
1 chicken, raw, cut into small cubes
3 green onions, sliced (optional, for garnish)
cooked white rice (for serving)
Prep. Time → 45 min
Cook Time → 600 min
1. You'll start by preparing a dark brown roux with the oil and flour. In a skillet or non-stick pan over medium-low heat, heat oil until shimmering (about 2-3 minutes). Add flour and mix well with a wooden spoon (do not use silicone or plastic utencils). Cook, stirring constantly, until the roux gradually darkens to a dark brown color (about 10-15 minutes). Do not stop stirring, not even for a moment or it will burn and you will have to discard the roux and start over. You may also need to gradually lower the heat as the roux darkens. If the roux begins to smoke or darken too quickly, lower or turn off the heat but continue to stir.
2. When the roux reaches the desired color, either transfer it to the crock pot or set aside to cool completely before storing in a sealed container in the refrigerator for up to one week. It will solidify like peanut butter when refrigerated. When ready to use, add the solidified roux to the slow-cooker and heat on WARM setting while stirring with a spatula or wooden spoon until it liquefies. Add all of the remaining ingredients *except* for the bay leaf, cooked rice and green onions. Mix thoroughly, then set the bay leaf on top of the mixture.
3. Cover and cook on LOW for 7-9 hours or SIMMER for 9-10 hours. Remove and discard bay leaves. Gently stir gumbo before serving. Serve gumbo over hot cooked rice with a side of French garlic bread, cornbread or biscuits.
main courses, cajun, gumbo, pork, poultry, sausage, chicken, spicy February 26, 2020 03:32
Author https://thespruceeats.com/shrimp-..., https://delish.com/cooking/recipe..., https://youtube.com/watch?v=8fz7_...
Share the recipe with your friends
No one has liked this recipe.
0 comments