Ingredients
for 6 servings
MEATBALLS
2 lbs ground beef
1 large egg
1 tbsp worcestershire sauce
1 tsp salt
1 tsp garlic powder
1 tsp onion powder
1/2 tsp pepper
1 cup panko or plain breadcrumbs
GRAVY
1 large onion, sliced
1 8oz package sliced mushrooms
3 cups beef broth
2 1-oz packages brown gravy mix
1 tbsp worcestershire sauce
1 tbsp ketchup
1/2 tsp each garlic powder, onion powder, salt, pepper
2 tbsp cold water
2 tbsp cornstarch
2 tbsp olive oil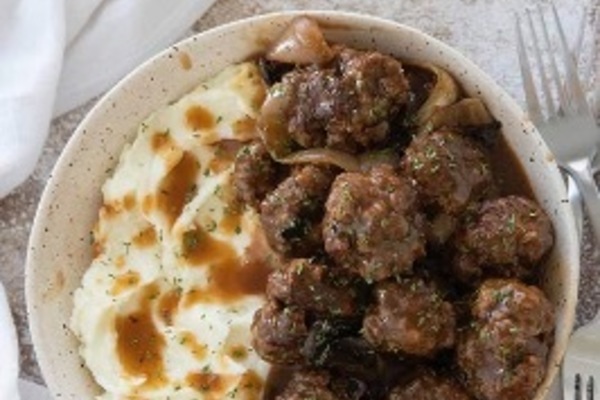 1. In a large bowl combine the beef, beaten egg, worcestershire sauce, salt, garlic powder, onion powder, pepper, and breadcrumbs using your hands, just until combined. Form the beef mixture into about 24 meatballs (about 1 1/2 inches in diameter) and set aside on a large plate.
2. Heat the olive oil in a large skillet over med heat. When oil is hot add half of the meatballs to the pan and sear on each side for about 2-3 mins until browned. Transfer to the bottom of the slow cooker. Repeat with the remaining meatballs. (or you can use frozen meatballs)
3. Place the meatballs, sliced onion and mushrooms in the bottom of your slow cooker. Set aside.
4. In a med bowl whisk together the beef broth, gravy mix, worcestershire sauce, ketchup and seasonings. Pour the mixture over the meatballs. Cook on low for 6-8 hours or on high for 3-4 hours.
5. Once cooked, remove the meatballs from the slow cooker and set aside. At this point if your slow cooker was on low, turn it up to high. Mix together the cold water and cornstarch in a small bowl. Whisk the cornstarch mixture into the broth for 1-2 mins until thickened.
6. Return the meatballs to the slow cooker and stir gently to coat with the gravy. Serve immediately.
7. Really good with mashed potatoes. Yummm
main courses December 07, 2021 20:23
Share the recipe with your friends
No one has liked this recipe.
0 comments