Ingredients
3 tbsp honey
3 tbsp soy sauce or tamari
3 tbsp unseasoned rice vinegar
1 tsp finely grated ginger (I used more)
1 tbsp avocado oil
4 skinless, boneless chicken thighs
salt
sliced green onions
toasted sesame seeds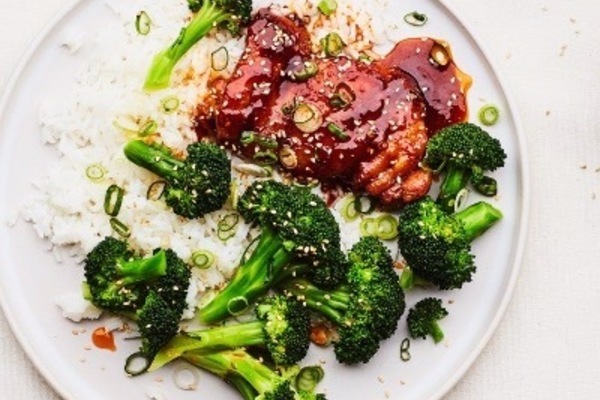 1. Whisk honey, soy sauce, vinegar and ginger in a small bowl.
2. Heat oil in a large skillet over med-high. Pat chicken dry and season with salt. Cook cut side up (you want the smooth side with the most surface area to hit the pan first) until deeply golden brown, 7-9 mins.
3. Pour sauce over chicken and reduce heat to med-low. Turn chicken and continue to cook, spooning sauce over occasionally, until sauce is syrupy and chicken is cooked through, 6-8 mins.
4. Transfer chicken to a platter and spoon any remaining sauce over. Top chicken with green onions and sesame seeds.
5. Serve with steamed broccoli and rice. Yummy!
main courses May 19, 2019 03:06
Share the recipe with your friends
No one has liked this recipe.
0 comments