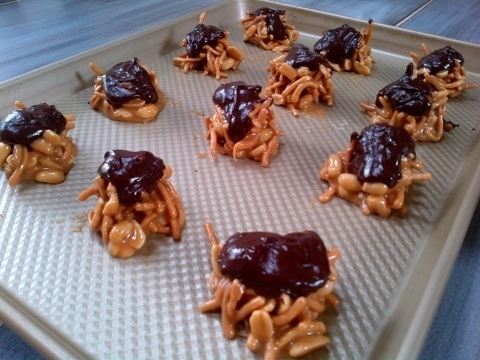 Ingredients
28 caramels
3 TBS of butter
4 TBS of water
3 oz of cho mein noodles
1 cup roasted peanuts.
6 ounces semi sweet chocolate
1. For the candy part melt together 28 caramels, 3 TBS of butter, and 2 TBS of water in the microwave on high for 2 minutes. Stir until smooth.
2. Add in 3 oz of cho mein noodles along with 1 cup roasted peanuts. Drop onto cookie sheet, about 2 TBS for each cookie.
3. For the chocolate coating, melt together 6 ounces semi sweet chocolate along with 2 TBS water on high for 45 seconds. Stir until smooth and drizzle on top of the 'spiders.'
4. Let them hang out on the counter for their 'legs' to set. Refrigerate any you don't gobble up right away to stay fresh longer.
desserts, cookies February 24, 2016 21:34
Author a-life-from-scratch.com/
Share the recipe with your friends
No one has liked this recipe.
0 comments