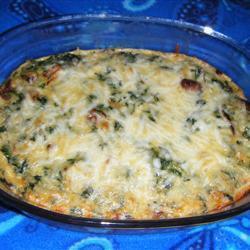 Ingredients
for 12 Servings
3 tablespoons butter
3 eggs
1 cup milk
1 cup all-purpose flour
1 teaspoon salt
1/2 teaspoon ground black pepper
1 teaspoon baking powder
1 1/2 teaspoons minced garlic
1/2 cup chopped fresh mushrooms
1 small onion, chopped
4 cups shredded Cheddar cheese
1 (10 ounce) package frozen chopped spinach, thawed and drained
Prep. Time → 15 min
Cook Time → 30 min
1. Preheat the oven to 350 degrees F (175 degrees C). Melt butter in a 9x13 inch baking dish while the oven preheats.
2. In a large bowl, whisk together the eggs, milk, flour, salt, pepper, baking powder and garlic until well blended. Add the mushrooms, spinach and cheese, and stir to blend evenly. Tip the baking dish to coat with melted butter, then pour the spinach mixture into the pan.
3. Bake for 30 minutes in the preheated oven, until firm and golden. Cut into bars, and serve warm.
side dishes, cheese, spinach January 04, 2013 14:17
Author allrecipes.com