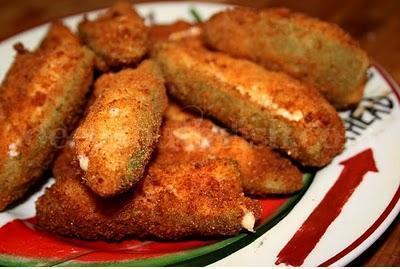 Ingredients
for 2 people, 4 each
8 Jalapenos (thumb size or larger), whipped cream cheese (about half of a large container), Fresh chives, Bread crumbs (I used stuffing cubes), and seasoned salt. 2 eggs, about 2 tablespoons of milk, a table spoon of flour, your preference of cooking oils (I use canola).
Prep. Time → 30 min
Cook Time → 10 min
1. First I'd like to say that I DO NOT eat very spicy food ever and I will eat these everyday if I could. Its all in the preparation of the jalapeno. Second, and this is a big one, DO NOT TOUCH YOUR FACE OR ANY OTHER BODY PART YOU WOULDN'T WANT JALAPENO JUICE ON!!! The heat lingers on your hands. You may want to consider gloves, especially if you have any cuts on your hands! If not make sure you wash your hands VERY well after you are done!
2. Jalapeno- cut stem and top off, make a cut down the length and open carefully. (I actually cut them in half long ways the first time I made them; it makes them easier to clean out) using a spoon or butter knife, scrape out all seeds and ALL of the membrane. That's where the heat is really stored. Rinse and set aside. (If you cut completely in half, make sure you match your halves back up!)
3. Finely dice about 1 - 2 tablespoons of chives depending on your preference. You can use dried chives if necessary but the fresh have a little better taste.
4. In a bowl mix the cream cheese and chives.
5. Take your jalapenos and fill with the cream cheese mixture, close up, and set aside.
6. Crush your breading cubes down, its ok to have a few larger chunks, but you want it crushed well, (I do this in a ziplock baggie), add flour then add seasoned salt to your taste. Mix well and put in a bowl.
7. Mix Eggs and milk in a separate bowl very well.
8. Roll jalapenos in the egg mixture then directly to the bread mixture. Because of the jalapenos skin the mixture wont want to stick well so you'll have to get your hands dirty on this part. Where ever you see exposed jalapeno, spoon some egg mixture there and sprinkle the crumb mixture over it until the jalapeno is completely covered in the crumb mix well. Set on a tray. When all jalapenos are done put tray in refrigerator for at least an hour, can be stored over night if you want to do prep-work the day before an event.
9. In a pot or deep fryer you want just enough oil to cover the jalapenos, heat it enough so that when a bread crumb is dropped in it fries it. Put jalapenos in carefully so you don't disturb the breading, and fry, gently rotating them. When they turn a beautiful golden brown, or the cream cheese starts to ooze out they are done. remove from oil onto a paper towel. Let cool for a bit and enjoy! I like to dip mine in ranch.
appetizers November 10, 2011 06:26
Author Trisha Walls