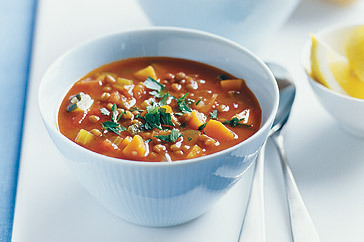 Ingredients
for 6 servings
2 Tablespoons Olive oil
1 Red Onion
1 White Onion
3 Cloves Garlic
3 Medium Carrots
1 Large Zucchini
3 Tomatoes
1 Cup bean/legume mix, soaked overnight
2 litres Good quality vegetable stock
2 - 3 Tablespoons Honey
Salt and Pepper to taste
Juice of 1/2 a lemon
Spring Onion
Basil
Parmesan (to serve)
Prep. Time → 20 min
Cook Time → 60 min
1. In a large pot, heat the olive oil and fry the chopped garlic and onions until brown. Add about 1/2 a cup of stock and bring to boil. Add bean mix, chopped carrot and zucchini. Add remaining stock liquid. Bring to boil. Add chopped tomatoes, honey, salt and pepper. Let boil for 45 mins, stirring occasionally. If soup becomes too thick add more stock or water. Continue boiling until vegetables and beans are tender.
Add lemon juice, chopped spring onion and basil in the last few minutes of boiling.
Serve with sprinkled parmesan if desired.
cheap, healthy, soup, vegetarian, winter July 31, 2012 07:07