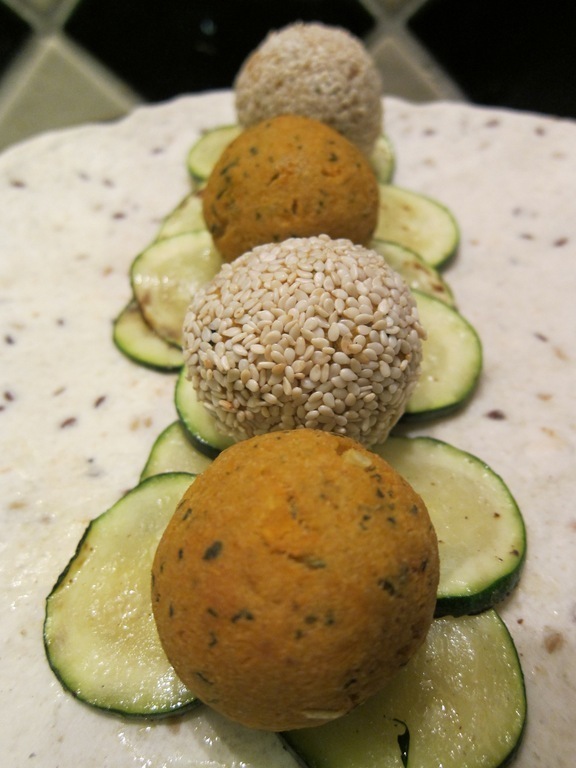 Ingredients
for 4 servings (4 falafel each)
2 med-large sweet potatoes (~700g total)
120g gram (chickpea) flour
2 garlic cloves, chopped
2 tsp ground cumin
2 tsp ground coriander
1 small bunch fresh coriander (about 30g)
1/2 lemon, juice only
sesame seeds, to sprinkle over before baking
Prep. Time → 15 + 30 fridge min
Cook Time → 15-20 min
1. Cook the sweet potato until cubes of it are soft enough to squash with a fork
2. (I did this in the microwave, about 15mins on high for two medium-large spuds, but you can roast them in the oven if you have time)
3. Peel and cube the spuds (if you didn't do this before cooking them!)
4. Mash the sweet potatoes, spices and lemon juice together until smooth
5. Mix in the gram flour (and chopped spring onions if you like!)
6. Chill in the fridge for 30mins (or longer if you're patient) - the mixture will firm up
7. Take the mix out and give it a stir - if it seems really wet add a bit more gram flour (mine didn't need this)
8. Divide the mixture into 16 pieces and roll into balls by hand. Alternatively, play with two soup spoons (scooping and shaping) if you want to keep your hands clean!
9. If you like, roll the balls in sesame seeds - I found this gave them a nice crunch
10. Bake in the oven for 15-20 mins at 200 degrees C
11. Enjoy! In a wrap with some leaves or sauteed veg, or as they are with some other tasty food! I had mine in a wrap - would probably add a sauce of some kind next time, maybe yoghurt and mint... nom.
main courses, coriander, falafel, sweet potato October 30, 2011 19:38
Author - Leon: Ingredients & Recipes (amazon.co.uk/Leon-Ingredie...)