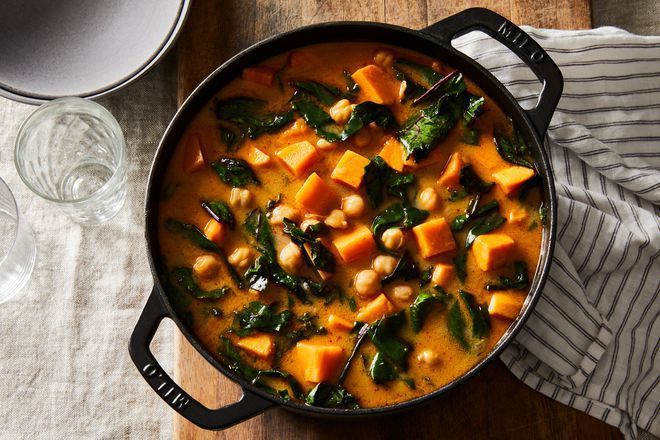 Ingredients
4 tbsp unsalted butter
1 yellow onion, chopped
2 lbs yams (about 2 large or 3 small), peeled and chopped into 3/4 inch chunks
1 tsp salt, plus more to taste
1/4 tsp red pepper flakes
1 tbsp maple syrup
4 cups chick broth or stock (I use Better Than Bouillon)
1 tbsp soy sauce (I use low sodium)
1 15.5 oz can chickpeas, drained and rinsed
4 cups (packed) kale (can use swiss chard, mature spinach etc)
1 tbsp fresh lime juice and the zest
4 tbsp hummus (I used roasted garlic hummus)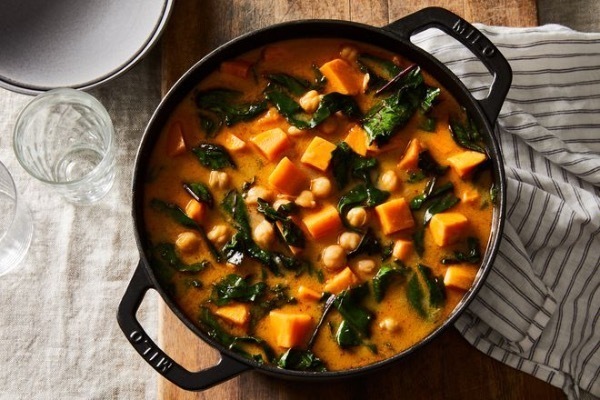 1. Heat butter in dutch oven over med heat. Add onion and cook for about 5 mins until softened. Add yams, 1/2 tsp salt, and red pepper. Cook for another 5 mins (stirring occasionally).
2. Add maple syrup, stirring so it evenly coats the yams. Cook for 1 to 2 more mins, stirring constantly, to lightly caramelize the syrup.
3. Add broth, soy sauce, chickpeas, greens and lime zest. Simmer gently for about 15 mins or until yams are tender.
4. Lower heat and stir in lime juice and hummus until well integrated. Taste and add more hummus or seasoning if desired.
main courses October 13, 2020 21:34
Share the recipe with your friends
No one has liked this recipe.
0 comments