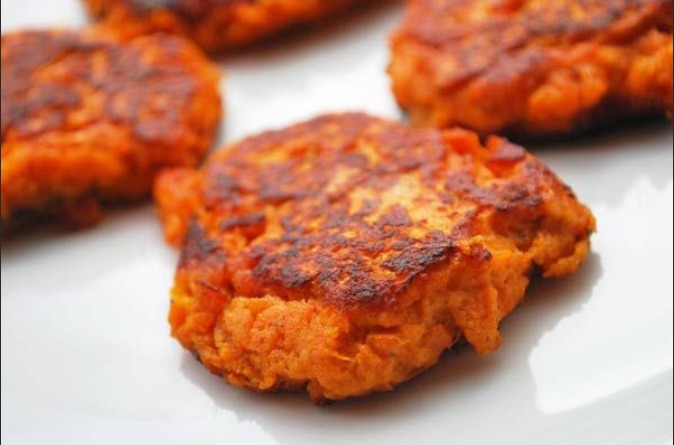 Ingredients
for 5 servings
900g sweet potato
450g broccoli
1.25 cup peas
430g tin sprinwater tuna (I've used salmon and it was just as nice)
2.25tsp (11.25g) ground/smoked paprika
1.25tsp (5.63g) garlic powder
15.75tsp (78.75ml lemon juice
45g spring onion (I used chives)
4.5tsp (22.5g) olive oil
13.5tbsp (270g) Greek Natural Yoghurt
1.25 garlic clove or teaspoon bottled (to taste)
6.75tsp (33.75g) Dijon mustard (this is for the tartar sauce but I added it to the patties and it was yummy)
135g pickled dill cucumbers
Prep. Time → 20 min
Cook Time → 10 min
1. Peel, cut and steam/microwave sweet potato.
2. Steam or microwave broccoli and peas. Set aside and keep warm while you prepare the patties.
3. Drain tuna and add to sweet potato.
4. Add salt, pepper, paprika, garlic powder, half the lemon juice and finely chopped spring onion (I used chives).
5. Mash together well. Roll into tight balls then press to form patties.
6. Add olive oil to hot pan, seal patties for a minute each side. Try to only turn once. All the ingredients are cooked, so you're just getting a golden crust and heating the patties through.
7. Make the tartar sauce with greek yoghurt, remaining lemon juice, crushed garlic, Dijon mustard, finely chopped dill cucumbers and a pinch of sale. Stir well.
8. Serve patties with peas, broccoli and sauce.
main courses, salmon, sonya, tuna September 27, 2020 06:44
Author Sonya Kruger diet
Share the recipe with your friends
No one has liked this recipe.
0 comments