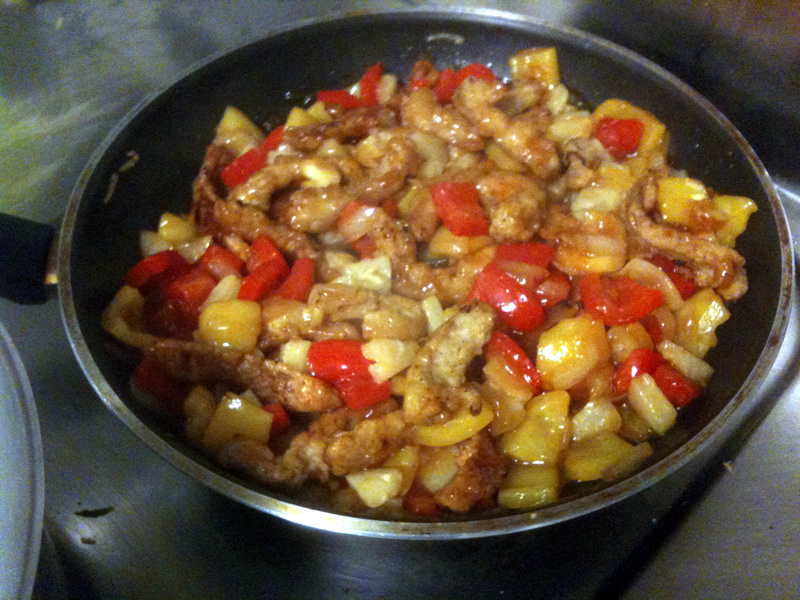 150 - 200g Pork
2 green Bell Pepper
1 red Bell Pepper
1 Onion
Pineapple
Some Garlic
3 Tbls. Rice Vinegar or thinned Apple Vinegar
3 Tbls. Sugar
1 Tbls. Soy Sauce
1 Tbls. Ketchup
50ml Water
Salt & Pepper
1 beaten Egg
1 Tbls. Sake or White Wine
1/2 Tbls. Soy Sauce
1 Tbls. Corn Starch
Oil for frying
Prep. Time → 15 min
Cook Time → 15 min
1. Preparing the pork:
Cut pork into small pieces.
Take a small bowl and mix up 1 egg, 1 tbls. sake/wine, 1 tbls. soy sauce and 1 tbls. corn starch and the pork. Put it aside for 15 minutes.
2. Sweet & Sour Sauce:
Take a small bowl or cup and mix up 3 tbls. rice/thinned apple vinegar, 3 tbls. sugar, 1 tbls. soy sauce, 1 tbls. ketchup and 50ml water.
3. Fry the pork: Take a pot and heat up the oil to 170C/340F.
Put the pork into the pot and fry it until its gold brown.
4. Take a wok/pan and put some oil into it. Then add garlic pieces, onion and green/red bell pepper and cook it for 1 or 2 minutes.
5. Add the sweet & sour sauce to the vegetables in the pan and let it cook.
6. After a few minutes mix up 1 tbls. corn starch with 1 1/2 tbls. water and add it slowly to the cooking sweet & sour vegetable mix in the pan and mix it up until the sauce gets thick.
7. Add the fried pork, warm it for a few minutes and serve!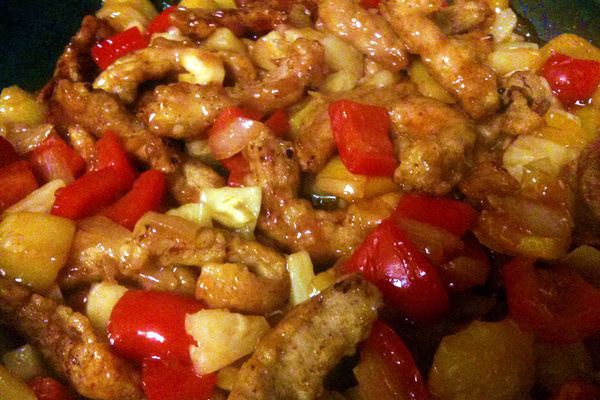 main courses, chinese, japan, asian, pork April 11, 2011 12:04