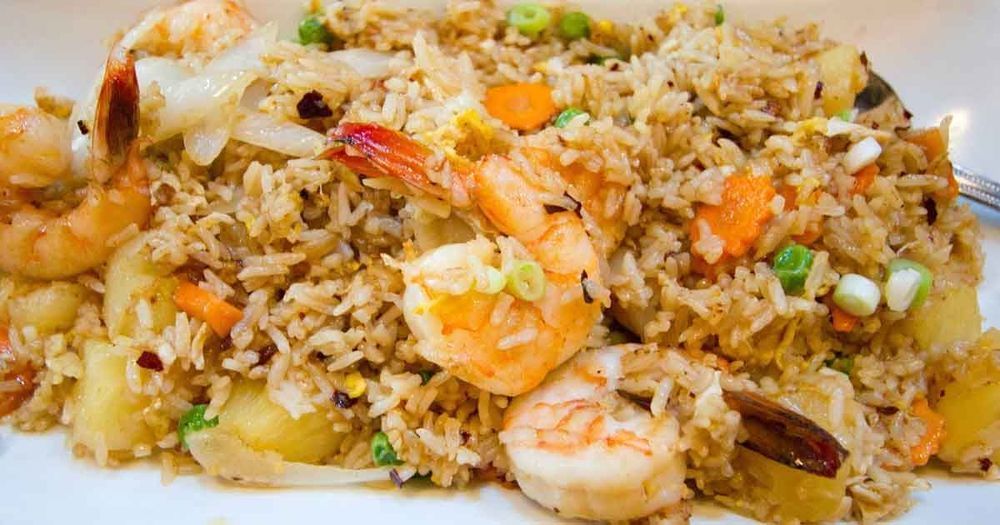 Ingredients
3 tbsp vegetable oil
1 pound shrimps peeled and deveined
1 large red bell pepper diced
1 medium red onion diced
2 garlic cloves chopped
1 red chili diced
2 large eggs, beaten
2 cups cooked rice
2 tbsp fish sauce
2 tbsp soy sauce
2 tbsp lime juice
1 1/2 cup fresh pineapple diced
1/2 cup roasted cashews
1/2 cup cilantro leaf shredded
Prep. Time → 10 min
Cook Time → 15 min
1. Fry the shrimp in the vegetable oil for a minute and then remove them from the oil.
In the same oil, fry the bell pepper, onion, garlic and chili for three minutes.
Pour in the beaten eggs and stir for thirty seconds.
Add the rice and sauté for one to two minutes.
Pour in the fish sauce, soy sauce and lime juice and continue sautéing.
After two minutes, add the shrimp aback as well as the pineapple.
Sauté for two minutes.
Add the cashews and cilantro and serve!
main courses, fried rice, prawn, shrimp, thai pineapple October 05, 2018 07:14
Author https://hungryforever.com/recipe/...
Share the recipe with your friends
No one has liked this recipe.
0 comments