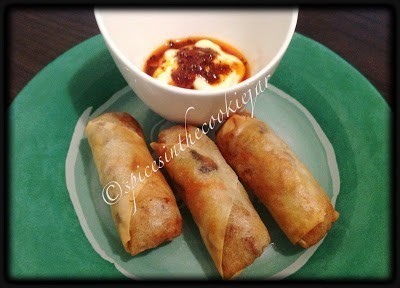 Ingredients
for 20-25 spring rolls
To pressure cook
Chicken thigh fillet - 600 g
Soy sauce - 2 tbsp
Cardamom - 1
Clove - 1
Cinnamon - 1" long piece
Star anise - 1 optional
Rice Vinegar - 2 tsp
Ginger garlic paste - 1 tsp each
Pepper - 1 tsp
Salt to taste
For filling
Shallots - 15 finely chopped
Carrots - 1 big julienned
Dry mushrooms - 12 chopped into small cubes (re-hydrated as per packet instructions)
Glass noodles - 1 ball (soaked according to packet instructions)
Chinese 5 spice or all spice pdr - 1 tsp
MSG - 1/4 tsp optional
Oyster sauce - 1 tsp
Fish sauce - 1 tsp
Spring roll wrappers - 1 packet
Oil as required
2. In a pressure cooker mix the ingredients under to pressure cook and cook for 1 whistle. Take off flame and let it cool before opening the lid.
3. Drain the chicken pieces and shred it roughly. Reserve the stock.
4. In a wok or pan heat 1 tbsp oil and fry the shallots till transparent. Add the carrots and mushrooms and mix well for 5 mins.
5. Next pop in the shredded chicken and stir till everything is coated well.
6. Pour the reserved stock at this stage and cook on high heat till the water evaporates.Add the glass noodles to this and mix well.
7. Mix the MSG, oyster sauce, fish sauce & all spice on high flame for a minute.
Adjust salt and pepper if required.Take off flame and let it cool.
8. Place a spring roll wrapper on the work surface with a corner at the top (cover remaining wrappers with a damp tea towel).
9. Spoon 1-2 tbsp (depending on the wrapper size) of the chicken mixture across center.
10. Brush edges lightly with water, fold bottom of wrapper over filling, fold in sides, then roll to enclose. Repeat with remaining spring roll wrappers and filling.
11. Heat oil in a wok or deep bottom pan and make sure the oil is hot enough before frying the spring rolls in batches, for 3 to 4 minutes or until golden.
12. Transfer & drain on paper towels using a slotted spoon.Serve with chilly mayo sauce and iceberg lettuce.
starters, appetizer, asian, chicken, finger food, snack, spring rolls, deep fried, thai spring rolls March 24, 2014 02:33
Author Aisha Waseem (spicesinthecookiejar.blogspot....)
Share the recipe with your friends
No one has liked this recipe.
0 comments