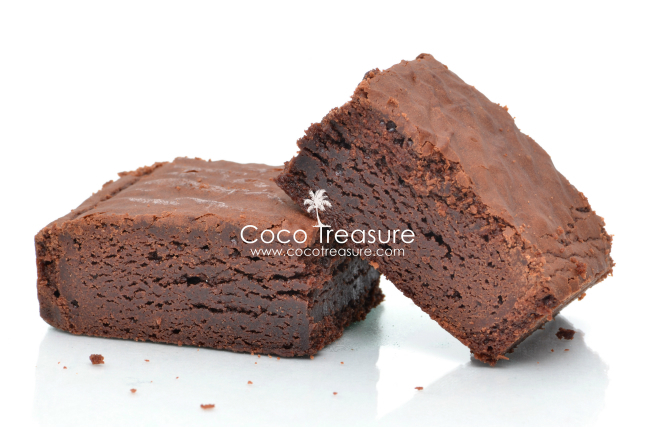 Ingredients
• 1 cup Coco Treasure Organic Coconut Flour
• ½ teaspoon baking soda
• ½ teaspoon sea salt
• 2/3 cup Coco Treasure Organic Extra Virgin Coconut Oil
• 1 12-ounce bag milk chocolate chips
• 1 12-ounce bag dark chocolate chips
• ¾ cup Coco Treasure Coconut Nectar Syrup
• 2 teaspoons pure vanilla extract
• 5 large eggs
Directions
1. Preheave oven to 325 degrees Farenheit.
2. Mix coconut flour, baking soda and salt in a medium-sized bowl.
3. Grease an 8×8 baking pan with coconut oil or line with parchment. You may also use a 9×9 pan if you prefer less dense, more cake-like brownies.
4. Place half the dark chocolate and half the milk chocolate in a double boiler—or a small saucepan placed over a larger pan filled about halfway with water. Bring the water to a simmer but do not boil. Melt the chocolate chips until they are glossy and smooth, stirring often. Remove the pan from the heat.
5. Add coconut oil, nectar syrup and vanilla extract to the melted chocolate. Allow the coconut oil to melt completely in the hot chocolate. Stir to incorporate all the ingredients.
6. Stir the eggs into the batter, one at a time.
7. Pour half the batter into the pan. Pound on counter once or twice to remove air bubbles and level the batter.
8. Sprinkle the remaining milk chocolate chips onto the batter.
9. Pour the rest of the coconut flour brownie mix over the chocolate chips. Level and top with the remaining dark chocolate chips.
10. Bake for 50-60 minutes or until a pick inserted into the center of the pan comes out clean.
desserts, coconut flour, coconut flour recipe, coconut flour brownies November 01, 2017 02:39
Author https://cocotreasure.com/recipes/the-...
Share the recipe with your friends
No one has liked this recipe.
0 comments