Ingredients
for 12 people
1) (2) 8.0 Oz Cream Cheese Bars
2) (4) Cups of flour
3) (2 ½) 100gm Butter Bars
4) 8. 0 Oz of powdered Chocolate
5) 3 cups of white sugar
6) 1 Oz of vanilla extract
7) 4 eggs
8) 15 Oreo Cookies
9) 2 White Hershey Chocolate Bars
10) 6 Hershey Kisses
11) Nutella ( Hazelnut crème) as needed
12) Milk Candy ( as needed)
13) Pirulines ( as needed)
Prep. Time → 60 min
Cook Time → 30 min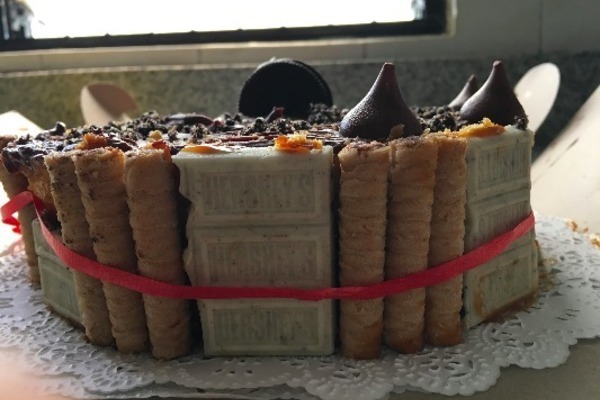 1. Part One ☺ The Perfect Brownie
2. 1) Pick out a comfortable stirring bowl and pour out the powdered chocolate
2) Melt 2 butter bars and slowly blend with chocolate until creating a smooth mix
3) Add 1 ½ cups of flour, stir until mix is uniform
4) Add 2 eggs and mix until eggs are dissolved
5) Add 1 ½ cup of sugar blend until smooth
6) Last but not least add a pinch of vanilla extract
7) butter a medium sized pan and pour out mix until its spread uniformly across your pan, proceed to bake at 350 F for 30 mins after preheating oven
8) After cooling, proceed to place on final platter and top with milk candy, as much as you want ☺
3. Part 2☺ The Cheesecake
1) place cream cheese in bowl and mix until texture is workable
2) mix 2 eggs in to cream cheese
3) add 1 cup of sugar in to mix
4) add 2 tsp of vanilla extract blend until uniform mix
5) Blend in 2 tbsp of flour in to mix until uniform and no lumps are present.
4. The cookie part
1) Melt have a bar of butter
2) after crushing cookies in to crumbs proceed to blend in with butter until evenly distributed.
5. 1) Butter your pan
2) Evenly spread cookie crumb mix on the bottom of your platter, make sure its evenly distributed.
3) Pour cheesecake mix
4) Preheat oven to 350 F and proceed to bake for approximately 30 minutes
5) IMPORTANT let the cheesecake cool for at least 2 hours in your freezer
6. The Mashup
1) Extract cheesecake from pan and place on top of the milk candy you spread on the brownie, place the cookie covered part so that the top of the cheesecakes is facing upward and the cookies will be in contact with the milk candy.
2) Proceed to surround cake borders with milk candy so that you can use this as glue for decorating
3) Top the cake with nutella
4) Create your own pattern with the pirulines, chocolate bars and Oreos so that your cake is pretty cool.
5) After surrounding your cake tie it up with a nice lace so that everything hold together and refrigerate for at least 2 more hours.
desserts, brownie, cheescake, hersheys, nutella, oreo, sweets, thegeo, milkcandy, pirulines, ultimatedesert, chocolate, kisses, foodie, creativefoods, funrecipee September 19, 2016 15:39
Author Aury Fernandez