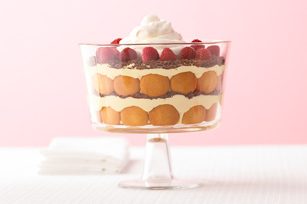 Ingredients
for 16 Servings (2/3 C. per serving)
1 pkg. (8 oz.) PHILADELPHIA Cream Cheese, softened
3 cups cold milk
2 pkg. (3.4 oz. each) JELL-O Vanilla Flavor Instant Pudding
1 tub (8 oz.) COOL WHIP Whipped Topping, thawed, divided
48 NILLA Wafers
1/2 cup brewed strong MAXWELL HOUSE Coffee, cooled
2 squares BAKER'S Semi-Sweet Chocolate, coarsely grated
1 cup fresh raspberries
1. BEAT cream cheese in large bowl with mixer until creamy. Beat in milk and dry pudding mixes. Stir in 2 cups COOL WHIP.
2. LINE 2-1/2-qt. bowl with 24 wafers; drizzle with 1/4 cup coffee. Top with half each of the pudding mixture and chocolate. Repeat all layers.
3. TOP with remaining COOL WHIP and raspberries. Refrigerate 2 hours.
4. HEALTHY LIVING
Save 60 calories and 4g of fat, including 2g sat fat, per serving by preparing with PHILADELPHIA Neufchatel Cheese, JELL-O Vanilla Flavor Fat Free Sugar Free Instant Pudding, COOL WHIP LITE Whipped Topping and Reduced Fat NILLA Wafers.
5. HOW TO EASILY GRATE CHOCOLATE
Unwrap chocolate squares, leaving each square on paper wrapper. Microwave on HIGH 10 sec., then grate with the largest hole of a cheese shredder.
desserts, chocolate, dessert, tiramisu, raspberries, jell-o November 14, 2011 16:13
Author KraftRecipes.com