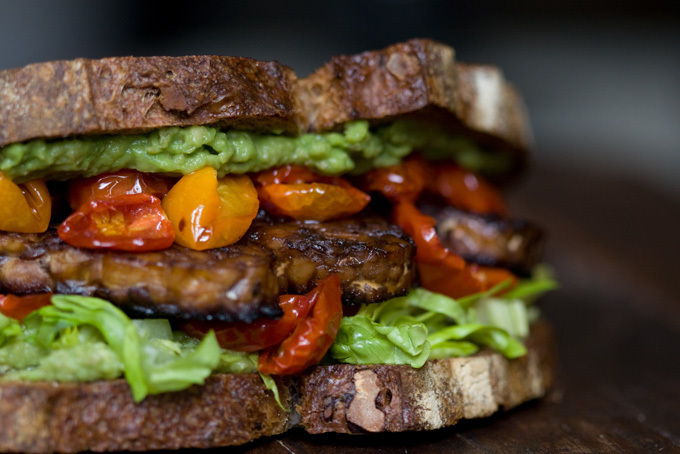 • Whole grain bread – 4 or 8 slices (well toasted, thin slices)
• Cherry tomatoes – 2 cups, Avocado – ½ Large (well mashed with a pinch of salt)
• 1 Small head of romaine lettuce (cored and cut into ¼ inch ribbons)
• Brown sugar – 2 tablespoon, Salt – ½ teaspoon
• Extra-virgin olive oil – ¼ cup
• Tempeh – 8 ounces (cut into 1/3 inch thick strips)
• Abodo sauce – 3 tablespoons
• Cherry balsamic vinegar – 2 tablespoons
• Shoyu sauce – ¼ cup and Olive oil – 3 tablespoons
Prep. Time → 30 min
Cook Time → 30 min
1. • At first preheat the oven to 360F. Take a dish and whisk olive oil, Shoyu sauce, cherry balsamic vinegar, abodo sauce and brown sugar all together. Take a baking dish and marinate with 1/3 of tempeh marinade. Pour the remaining marinade over the top of tempeh and keep it in refrigerator for couple of hours or overnight.
2. • Now roast the tomatoes. Cut each tomato in half and arrange then in an oven-proof dish. Make a mixture of extra-virgin olive oil, salt and sugar and pour it over the tomatoes. Toss them upside down, making sure they all get coated, finishing each tomato facing the cut side up. Place the dish inside the preheat oven for 45 minutes, until the tomatoes get shrunken.
3. • When the tempeh is done marinating, heat a large pan over medium heat and cook the tempeh slices for a few minutes on each side. To assemble the sandwiches, take one slice of bread and place thin layer of mashed avocado. Place some shredded lettuce on top of avocado, few tomatoes above it, and then a few slices of tempeh and repeat with more tomatoes. Place another avocado-slathered bread slice above it and its ready to go inside your mouth.
side dishes, food, oliveoil, recipe, tlt sandwich, cherry balsamic vinegar January 24, 2015 07:57
Author Sonoma Farm (sonomafarm.com/)