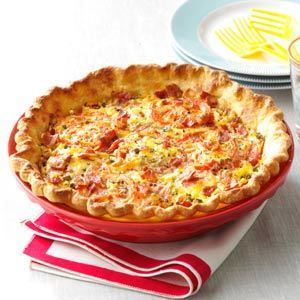 Crust
1 cup plus 2 tablespoons all-purpose flour
1/4 teaspoon salt
1/2 cup cold butter, cubed
2 to 3 tablespoons ice water
Filling
3/4 cup mayonnaise
1/2 cup shredded cheddar cheese
1/3 cup thinly sliced green onions
1 tablespoon minced fresh oregano
1/2 teaspoon ground coriander
1/4 teaspoon salt
1/4 teaspoon pepper
6 medium tomatoes (1-3/4 pounds), cut into 1/4-inch slices
4 bacon strips, cooked and crumbled
1. In a large bowl, mix flour and salt; cut in butter until crumbly. Gradually add ice water, tossing with a fork until dough holds together when pressed. Shape into a disk; wrap in plastic wrap. Refrigerate 30 minutes or overnight.
2. Preheat oven to 350°. On a lightly floured surface, roll dough to a 1/8-in.-thick circle; transfer to a 9-in. pie plate. Trim pastry to 1/2 in. beyond rim of plate; flute edge. Line unpricked pastry with a double thickness of foil. Fill with pie weights, dried beans or uncooked rice.
3. Bake 20-25 minutes or until bottom is lightly browned. Remove foil and weights; bake 5-10 minutes longer or until light brown. Cool on a wire rack.
4. In a small bowl, mix mayonnaise, cheese, green onions and seasonings. Arrange one-third of the tomatoes in crust; spread with one-third of the mayonnaise mixture. Repeat layers twice. Bake 25 minutes. Top with bacon; bake 5-10 minutes longer or until filling is bubbly. Let stand 10 minutes.
side dishes, breakfast, quiche, tomatoes July 17, 2015 11:46