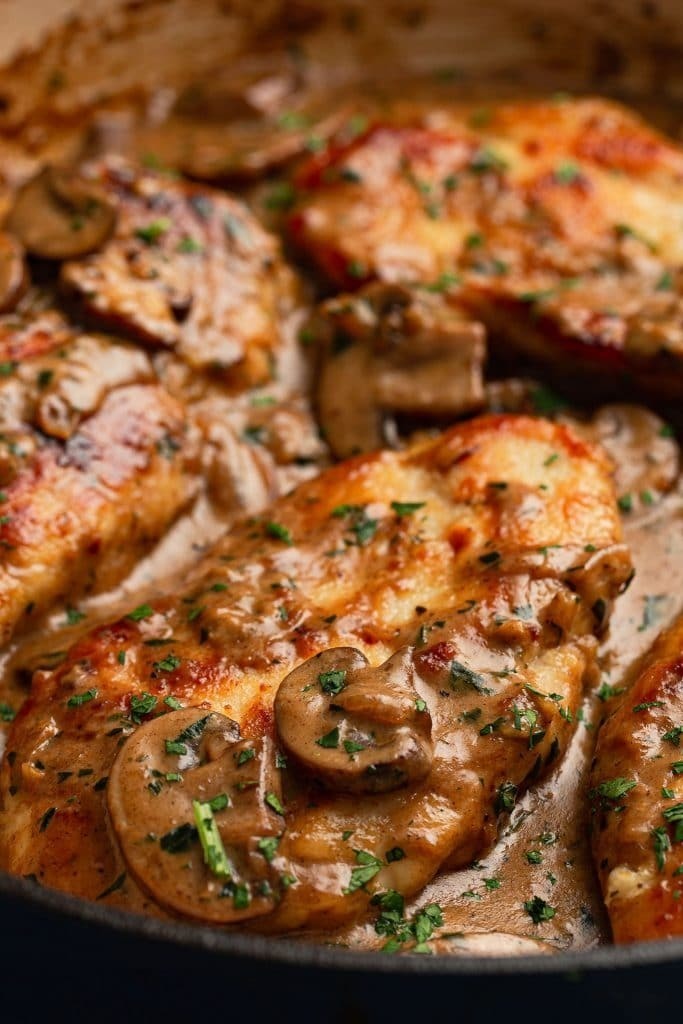 2 large Skinless Boneless Chicken Breasts, about 1.5 pounds
Salt and freshly ground pepper, to taste
1/2 cup all-purpose flour
2 tablespoons olive oil, plus more if needed
3 tablespoons butter, divided
10 ounces Cremini mushrooms, sliced
1 large Shallot, finely chopped
3 cloves garlic, minced
1 cup dry Marsala wine
1 cup Chicken Broth
1/2 cup heavy cream
1/3 cup chopped parsley
1. Place the chicken breasts on a cutting board and use a sharp chef's knife to slice them horizontally into two even pieces (cutlets). Transfer the cutlets, one at a time, to a ziploc bag. Using a meat hammer or a heavy rolling pin, gently pound each cutlet to a 1/4-inch thickness.
2. Transfer all the pounded cutlets to a bigger ziploc bag. Add salt and pepper to taste, seal and massage to season. Then, add the flour and massage again so every piece is thoroughly coated.
3. Heat olive oil in a large skillet over medium-high heat until shimmering. Tap off the excess flour of each cutlet and place them in the skillet, cooking – turning once – until golden brown and cooked through, about 3 minutes per side. Remove and reserve in a plate.
4. Add more olive oil if needed. Then, sauté the shallot and garlic until softened and fragrant, about 2-3 minutes.
5. Stir in the butter and, once melted, add the mushrooms. Cook, stirring frequently, until the mushrooms release their juices and gain some color. Season with salt and pepper.
6. Pour in the Marsala wine, scraping all the browned bits from the bottom of the skillet with a wooden spoon. Cook until reduced by half, about 2-3 minutes.
7. Stir in the chicken broth and bring to a boil, cooking until the sauce thickens.
8. Pour in the heavy cream and stir in the chopped parsley and butter. Taste and adjust seasoning as needed.
9. Add the chicken cutlets back to the skillet, swirling them so they get coated in the sauce. Cook just to warm them through.
10. Serve immediately, with rice, roasted garlic mashed potatoes or buttered pasta!
main courses October 08, 2022 15:50
Share the recipe with your friends
No one has liked this recipe.
0 comments