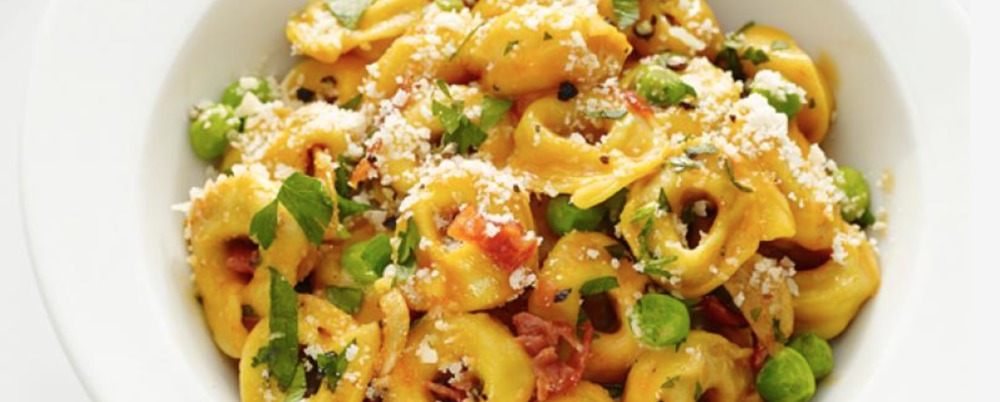 Ingredients
for 4 servings
Kosher salt
1 pound meat-filled tortellini
2 tablespoons extra-virgin olive oil
4 ounces prosciutto or pancetta, finely chopped
3 cloves garlic, thinly sliced
1 tablespoon tomato paste
1/4 cup heavy cream
1 cup frozen peas, thawed
2 tablespoons chopped fresh parsley
1/2 cup grated parmesan cheese
Prep. Time → 10 min
Cook Time → 15 min
1. Bring a large pot of salted water to a boil. Add the tortellini and cook as the label directs.
2. Meanwhile, heat a large skillet over medium heat. Add the olive oil and prosciutto and cook until crisp, 3 to 4 minutes. Stir in the garlic and tomato paste and cook until fragrant, about 1 minute. Ladle in about 1 cup of
the pasta cooking water and simmer until reduced by about half, 3 to 4 minutes. Add the cream and simmer until slightly thickened, 2 to 3 minutes.
3. About 2 minutes before the tortellini are done, add the peas to the boiling water and cook until just tender. Drain the tortellini and peas and add to the skillet, tossing to coat with the sauce. Stir in the parsley. Sprinkle with the parmesan cheese.
main courses, ham, pasta, peas, pork, prosciutto October 10, 2021 12:44
Author https://foodnetwork.com/recipes/f...
Share the recipe with your friends
No one has liked this recipe.
0 comments