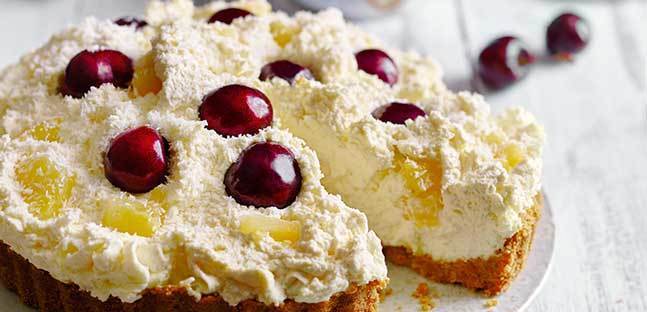 1 tin NESTLÉ Sweetened Condensed Milk
1 tin Pineapple
85 g flaked coconut
2 teaspoons lemon juice
2 Heavy whipping cream
1 teaspoon Vanilla essence
For Graham Cracker pie crust
12 pieces Digestive biscuits
5 tablespoons butter(melted)
50 g Sugar
8 teaspoon Salt
1. For the pie crust: Preheat oven to 180 C. Pulse cookie crumbs, salt, sugar and butter in food processor until combined. Firmly press crumb mixture into bottom and up sides of a 9 inch pie dish. Bake for 12-14 minutes until golden in color and smells fragrant. Let cool completely.
2. Crush the pineapple a bit more and mix it with the shredded coconut, Nestle Sweetened Condensed milk and lemon juice , vanilla in a large bowl.
3. Then fold in the whip cream to evenly mix.
4. Pour the mixture into the two pie crusts.
5. Freeze for a minimum 4 hours before serving.
6. Tip: Before serving you can garnish with more coconut flakes, a pineapple slice or toasted walnuts. Enjoy.
desserts, easy and tasty, nestle, pie, sweets September 11, 2017 10:35
Author https://nestledessertsarabia.com/...
Share the recipe with your friends
No one has liked this recipe.
0 comments