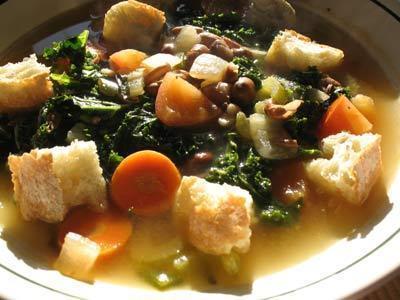 2 stalk(s) (medium) celery
1/2 teaspoon dried red chili flakes
1 medium carrot
1 medium onion
1 tablespoon(s) olive oil
2 clove(s) garlic
3 cup(s) vegetable broth
2 can(s) pinto beans
1/2 pound(s) escarole, chopped
1 cup(s) grated Parmesan cheese
Toasted bread slices, for serving
1. Grind celery, carrot, and onion in food processor until finely chopped.
Heat olive oil in medium saucepot on medium-high heat.
Add vegetable mixture and cook, stirring occasionally, 5 minutes or until soft.
Add garlic; cook 1 minute. Stir in vegetable broth, pinto beans, and escarole.
Bring to a simmer; cook 10 minutes or until escarole wilts.
Stir grated Parmesan cheese into soup; divide among 4 bowls.
Top with more Parmesan, if desired. Serve with toasted bread slices.
starters, rta kitchen cabinets, white kitchen cabinets March 12, 2014 11:10
Author I am a blogger from profession and you can have a look at granitecreekcabinetry.com/.