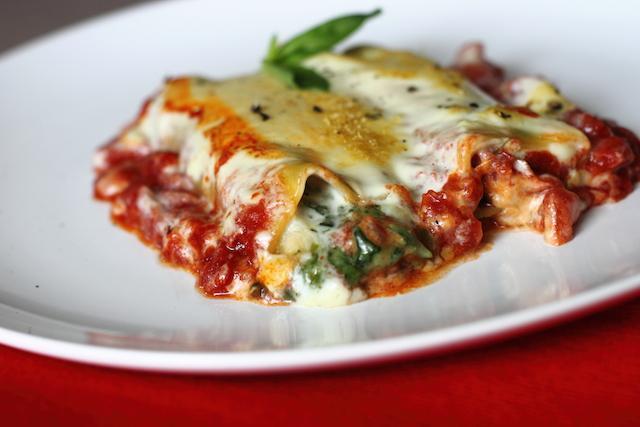 Ingredients
8 fresh cannelloni pasta sheets (I used lasagna sheets)
8 oz ricotta cheese
baby spinach roughly chopped
lean ground beef
2 shallot chopped
garlic salt
dried basil
dried thyme
asiago cheese or grated mozzarella
jar of marinara sauce
1. Preheat oven to 400 F.
2. In a large pan heat a drizzle of oil over med high heat until hot. Add the Ground beef, shallot, and spices. Cook for 3-4 mins. Stir in chopped spinach to combine and cook for 1 min to wilt. Season with salt and pepper. Off heat stir in ricotta cheese.
3. In a large bowl add the cannelloni sheets and enough warm water to cover. Soak for a couple of mins. (Don't leave them in the water too long).
4. In a casserole dish, add 1/4 of the marinara sauce to coat the bottom. Divide the beef filling between the cannelloni sheets and roll the pasta into cylinders, finish with seam side down. Place in casserole dish. Pour remaining marinara sauce over top and sprinkle with cheese. Bake on the middle rack for 10 mins, then broil until the cheese is bubbling.
main courses January 07, 2019 00:09