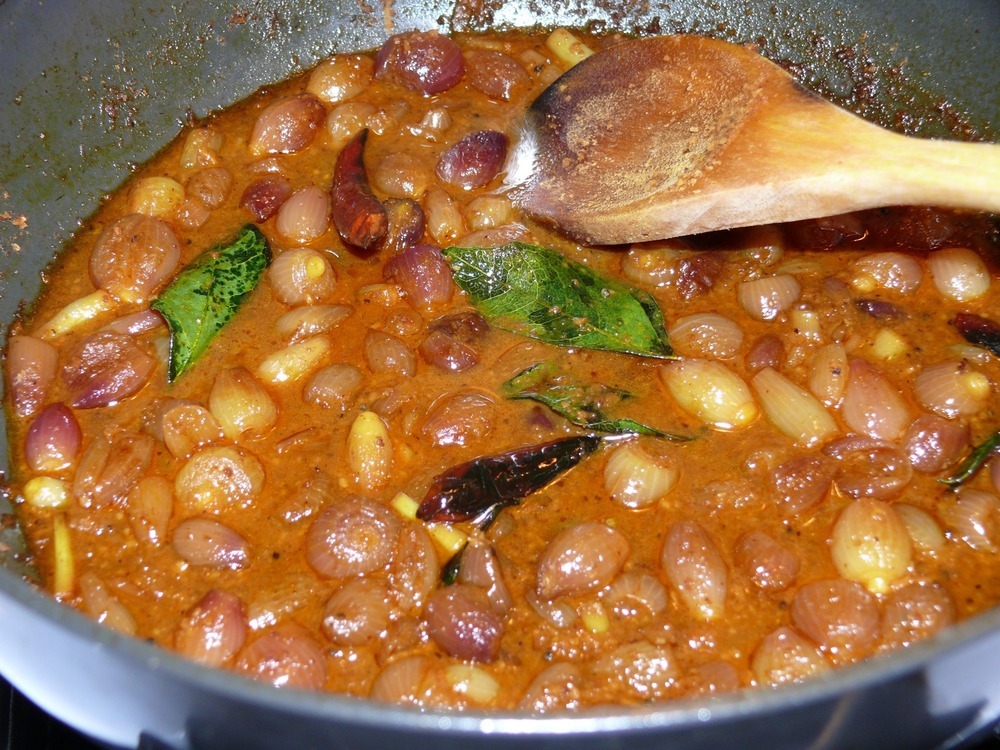 Ingredients
5-6 Tbsp Sesame oil
1/2 tsp fenugreek seeds
1/2 tsp Cumin seeds
1/2 tsp Whole black pepper
1 tsp coriander seeds
1 bowl of fresh ground coconut
5-6 whole red chillies
1/2 tsp Turmeric powder
For the Ulli Theeyal
1/4 bowl of sesame oil
1 whole red chilli
1/4 tsp Mustard seeds
1/4 tsp fenugreek seeds
5-6 Curry Leaves
1 bowl whole shallots
3 Tbsp of the ground masala
4-6 Tbsp tamarind extract
Pinch of Asafoetida
1 tbsp jaggery
1 tsp garlic paste
Salt to taste
Prep. Time → 15 min
Cook Time → 20 min
1. The Masala
In a pan, add oil.
Once the oil is heated, add fenugreek, cumin seeds, whole black pepper and coriander seeds.
Roast until brown.
Now, add the coconut and saute until the coconut turns dark brown.
While roasting, add red chillies and stir. Now add the turmeric powder and mix well.
Now grind or blend the mixture into a paste.
Making the Ulli Theeyal
In a pan, add oil.
Once the oil is slightly hot, break a red chilli in half and add it.
Now add the mustard seeds.
Once they splutter, add fenugreek leaves, curry leaves and the shallots.
Stir well.
Now add in the ground masala, and tamarind extract.
Stir well and add in the asafoetida and jaggery.
At the end add garlic and salt.
Mix well together.
side dishes, recipe, sidedish, ulli theeyal, vag November 14, 2018 10:35
Author https://hungryforever.com/recipe/...
Share the recipe with your friends
No one has liked this recipe.
0 comments