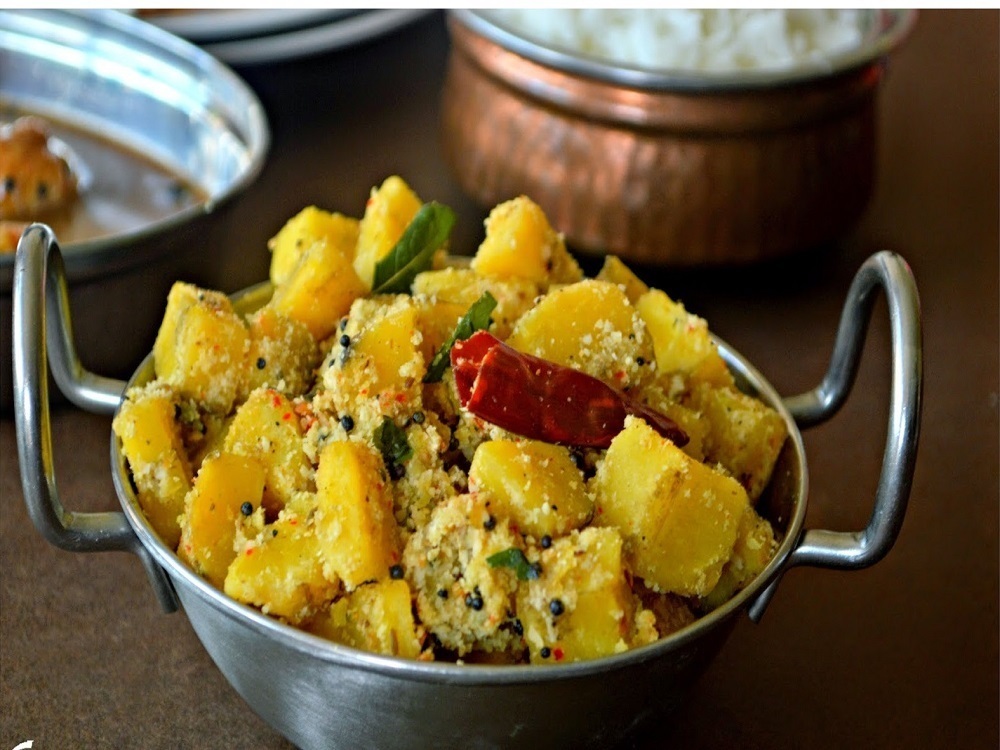 Ingredients
3 Vazhakkai-plantain
1/4 tsp Turmeric powder
Salt as required
1/4 cup Grated coconut
For the seasoning
3 tsp Oil
1 tsp Mustard seeds
1 tsp urad dal
2 Red chillies
Hing / asafoetida a pinch
3 slit green chillies
1 piece Ginger finely chopped
few Curryleaves
Prep. Time → 5 min
Cook Time → 20 min
1. Peel the skin of plantain and chop it into cubes or medium sized pieces. Keep it in water to prevent discoloration.
Cook plantain in water adding salt and turmeric powder until soft but not mushy. It should retain its shape, so make sure you do not overcook it.
Once cooked, drain the water completely and keep it aside.
Method
Heat oil in a kadai, add mustard seeds, when it splutters, add urad dal. When dal turns golden brown, add red chillies, hing, green chillies, ginger and curry leaves.
Saute for 2-3 seconds and then add the cooked plantain and mix well so that it is well coated with the seasoning. Check for salt. If required add and mix well.
Then add grated coconut, mix well and remove from heat.
side dishes, recipe, sidedish, vazhakkai, poriyal February 07, 2019 11:36
Author https://hungryforever.com/recipe/...
Share the recipe with your friends
No one has liked this recipe.
0 comments