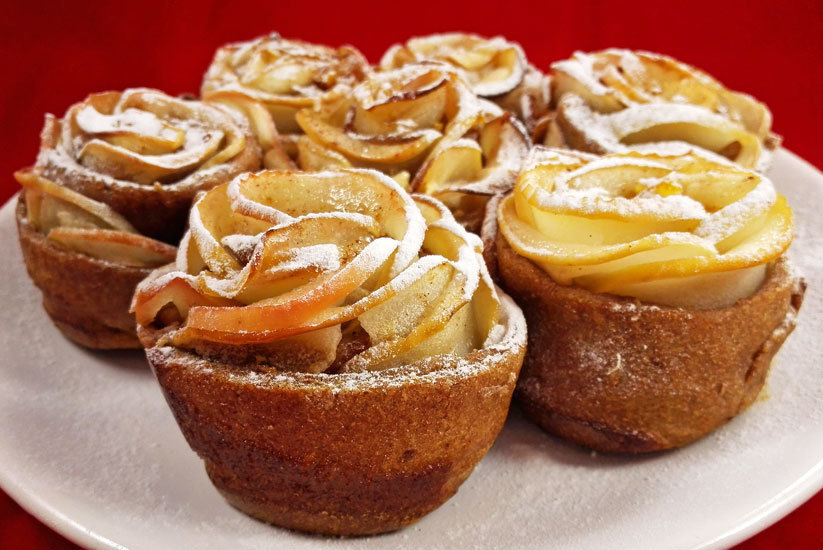 Ingredients
for 6-8 roses
2 apples
The juice from half a lemon
Cinnamon
Sugar to taste
¼ cup of walnuts – optional
Some water
2 tablespoons of jam
Powdered sugar – optional
For the crust
1 ½ cups of oat flour or ground oat
1/3 cup of dates
1 tablespoon of ground flaxseed or flaxseed meal
1/2 cup of drinking water
Cinnamon
Prep. Time → 40 min
Cook Time → 20 min
1. Soak the dates in water for about 1 hour, or if you want to speed up the process, use hot water.
2. Take the dates out of the water and mash them, but keep the water too. Add some cinnamon.
3. Combine 1 tablespoon of flaxseed meal with 3 tablespoons of water to make one egg substitute. Whisk it well until it thickens.
4. Add the flaxseed "egg" to the dates and mix them together.
5. Then, add the oat flour and mix everything well. If the dough seems too thick, you can add some of the date water.
6. Wash the apples and cut them into halves. Remove the seeds and cut the apples into thin slices.
7. Place the slices into a bowl of water and squeeze the lemon juice into the bowl. Microwave them for about 3 minutes or until they can flex without breaking.
8. Preheat your oven to 180°C (350°F).
9. Combine the jam with the walnuts.
10. Roll the dough and cut into thin long slices. Spread some of the jam and place the apples as shown. Fold the bottom of the dough strips and roll each strip carefully into the shape of a rose.
11. Put the roses on a muffin tray and bake for 15-20 minutes.
desserts, apples, baking, dairy-free, dessert, gluten-free, plant-based, vegan, vegan dessert, baked apple roses, vegan baked apple roses February 10, 2017 17:08
Author MyHealthyDessert (myhealthydessert.com/vegan...)
Share the recipe with your friends
No one has liked this recipe.
0 comments