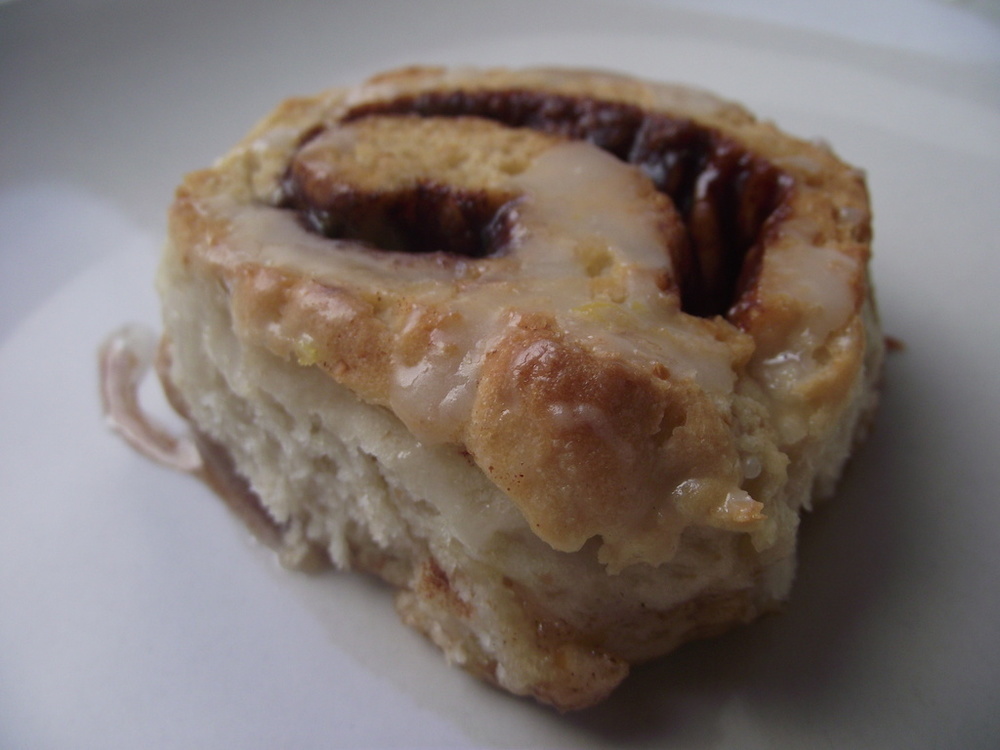 1 tablespoon ground flaxseed
275 ml warm (not hot) rice milk (or non-dairy milk of your choice)
50 g vegan margarine
350 g glutenfree white flour mix - mine contains
220 g white rice flour
35 g corn flour
35 g tapioca flour
50 g potato flour
1 pinch salt
1 tablespoon xantham gum
90 g light brown sugar
15 ml easy blend dry yeast
2 teaspoons ground cinnamon
For the glaze
3 tablespoons icing sugar
1 tablespoon maple syrup
grated zest of half a lemon
Prep. Time → 15 min
Cook Time → 70 min
1. Preheat the oven to 180 degrees Celsius/350 degrees Fahrenheit.
2. Make a "flax egg" by mixing 1 tablespoon ground flaxseed with three tablespoons of water. Set aside while you prepare the rest of the dough.
3. In a large bowl mix the glutenfree flour mix with the salt, xantham gum, and 3 tablespoons of the sugar.
4. Melt the margarine, and add 3 tablespoons of the melted margarine to the rice milk. Add the yeast and the "flax egg" and mix well.
5. Pour the mixture into the bowl with flour mix and mix well with a big spoon or a spatula. This will be a fairly wet dough, don't be alarmed.
6. Spray two sheets of baking paper (about the size of a cookie sheet) with oil or non-stick spray. Drop the dough onto one of the oiled sheets, but the other sheet on top and with a rolling pin spread/roll the dough between the two sheets until it is roughly the size of an A4/letter piece of paper.
7. Pull off the top sheet and pop it onto a cookie sheet (or use a new sheet of baking paper). Spread the remaining melted butter onto the dough. Mix the cinnamon with the remaining brown sugar and sprinkle evenly over the dough. Then roll the dough up tightly. With a sharp wet knife, cut it into about 9 rolls.
8. Put your rolls on the prepared cookie sheet in three rows of three. Cover them with oiled cling film and let them raise for 30-45 minutes. Pop them in the pre-heated oven for about 25 minutes until they are golden brown.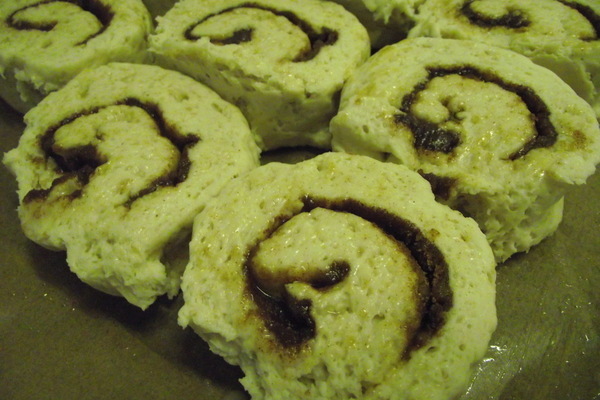 9. To make the glaze, mix the icing sugar with the maple syrup. Add just a tiny bit of water until you have the consistency you want, starting off with about a teaspoon and carefully adding more. Add the lemon zest.
10. Wait until the rolls are cooled down just a little bit (so the glaze doesn't melt) and drizzle with the glaze. Ta-da!
desserts December 02, 2012 19:44
Share the recipe with your friends
No one has liked this recipe.
0 comments